Sizzlin' Summer for Kids ages 6 to 10 (for children entering 1st – 5th grades)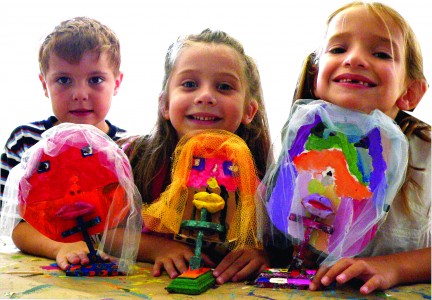 Program Description:
Sizzlin' Summer VISUAL ART CAMP
The visual arts camp exposes students to a variety of media, techniques, art history, and multicultural appreciation in a fun and educational environment. Each week there are four daily classes grouped by age for 6 (completed kindergarten) – 10 year olds. Working with the theme of the week, the students rotate through drawing/painting, 3 D Art, Hands On Museum, and Clay for an hour per class per day.
The Art Center is proud to continue to offer 30 years of Sizzlin' Summer Art Enrichment fun. Todd Still, Director of Youth Education, is excited about heading up his 21st year of Art Camp. Art classes feature 4 artists weekly – the best artists and art educators in the Tampa Bay Area – Multi-media experts with skills from Painting to Clay to Drawing to Dreamin'!
Lunches are Available through the Palm Cafe at DFAC.
Program hours and tuition for 1 week (Monday – Friday)
Member's Price
Non-member's Price
Sizzlin' Summer
9 a.m – 3 p.m.Sample schedule:
9:00 – 10:00 am 1st Class: 2-D Drawing and painting
10:00 – 10:20 am Snack time
10:20 – 11:20 am 2nd Class: Clay handbuilding
11:20 am – 12:10 p.m. Lunch (not provided) time in the Rotary Pavilion. After finishing lunch, Campers may participate in light outdoor sports
12:15 – 12:45 p.m. Cool Down Time indoors with a theme related video clip.
12:50 – 1:50 p.m. 3rd Class: 3-D Sculpture/recycled materials
1:50 – 2:50 p.m. 4th Class: Hands On Museum Time!
$170
$190
NOTE: Grouping with friends is available by advance written request if age group and art skills are appropriate.
Changes cannot be made after program has started. Verification of Kindergarten completion is necessary for 6 year olds.
Extended care is available for $45 per camper/week. 7:30 am – 9:00 am and 3:15 pm – 6:00 pm.
 [downloads query="category=29″ format="4″]
Sizzlin' Summer Visual Arts Camp Scholarships!
The Dunedin Fine Art Center is proud to once again offer scholarships for the 2018 art enrichment summer camps(no matter where you live!). In the past, community partners such as The City of Dunedin, Dunedin Rotary, Dunedin Rotary North, the Employees of the Tampa Bay Times, Pinellas Cultural Foundation, Inc, the Pinellas Community Foundation, many individuals and organizations have granted funds to be used for this purpose.To apply for a scholarship, DFAC needs 4 or 5 items for documentation:
1. Letter from the parent as to why a scholarship is needed.
2. Drawing or letter from child as to
why they would like to come to art camp.
3. Copy of a report card showing satisfactory grades.
4. Letter of recommendation from art teacher.
5. Proof of Dunedin residency (City of Dunedin scholarship only).Please send the 4 or 5 items to the attention of Todd Still, Director of Youth Education, DFAC, 1143 Michigan Blvd., Dunedin, FL 34698.