Get your hands on some art! Keep an Eye out as we continually update : )
Up to 11 weeks, DFAC's Summer Art Academy offers fun, creative, cognitive experiences for kids and teens from 4½ to 16 years old. Scroll down for 2018 weekly themes…then Camp Brochure(coming soon) and lastly a registration form(coming soon) at bottom of page. Check out our offerings and enroll early, as space IS limited!  
Sizzlin' Summer Art Camp: Registrations start 3/1/2018
Arts in Motion: Registrations start 3/1/2018
Art Squad: Registrations start 3/1/2018
I pad Explorations: Registrations start 3/1/2018
Mini Masters: Registrations start 3/1/2018
Mural Madness: Registrations start 3/1/2018
The Summer Art Academy offers seven camp programs based on age groups. Below, you can find all of the details for each program we offer, or
download
 the 2018(coming soon) Summer Art Academy brochure!
Lunch: Students are welcome to bring lunch and can also purchase soft drinks and snacks on site. Daily and weekly lunches are also available from the Palm Café for $6.50 per day or $26 per week.
2018 Weekly Themes
Week 1                5/29 – 6/1
Psychedelic Pyramids & Pharaohs
See what artfully happens when colorful, flower power meets the age of the Egyptians. WOW. * 4 Day week
Week 2              6/4 – 6/8
Shark week III
The most popular week is back with all its teeth and fins. We always have new fishy friends too!
Week 3                6/11 – 6/15
Zombie Plants vs Robots
Plants with teeth meet wacky robots. The possibilities are scary!
Week 4              6/18 – 6/22
Steampunk Star Wars
Create all your favorite characters and vehicles in the artsy steampunk style.
Week 5                6/25 – 6/29
Fantabulous Foods
Art and Food…what a yummy combination. Draw, paint and create your favorite dishes!
**artwork to be selected for Camp Exhibit
Week 6              7/2 – 7/6
Hoorah for Habitats
A house for a mouse or a tree for me? Use your imagination to create homes and places to live!
Week 7                7/9 – 7/13
Stupendous Super Heroes
Super Fun Friends meet Marvelous Multitudes in a week of your favorite heroes.
Week 8                7/16 – 7/20
Positively Pixels
Draw, paint and create your favorite video game characters. There are megabytes to choose from!
Week 9                7/23 – 7/27
Animal Planet
Have fun capturing your favorite animals with your imagination and lots of art supplies!.
Week 10              7/30 – 8/3
Dino-topia
Create a cool city of dinosaurs. Will T-Rex be the police?
Week 11              8/6 – 8/10
End of Summer Bonanza
Celebrate the end of summer with a little bit of everything that made this summer great!
Come Out and Play!
At the Dunedin Fine Art Center, we're proud to offer a little something for kids and teens of all ages! We hope you come out and play and see why everyone says the Dunedin Fine Art Center is where the art is! To learn more about our mission, and us, click here, or contact us for more information about summer camp.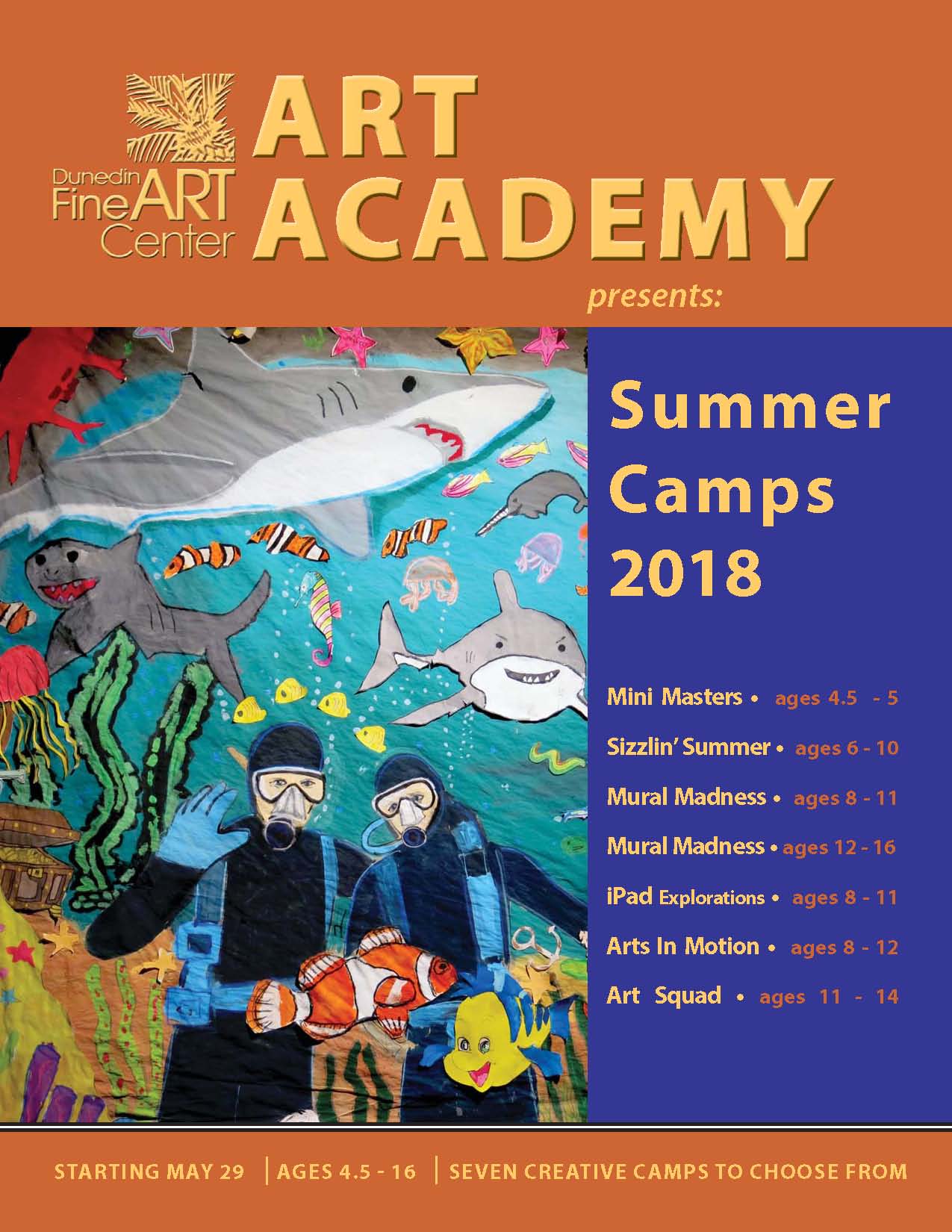 Don't see what you're looking for here?