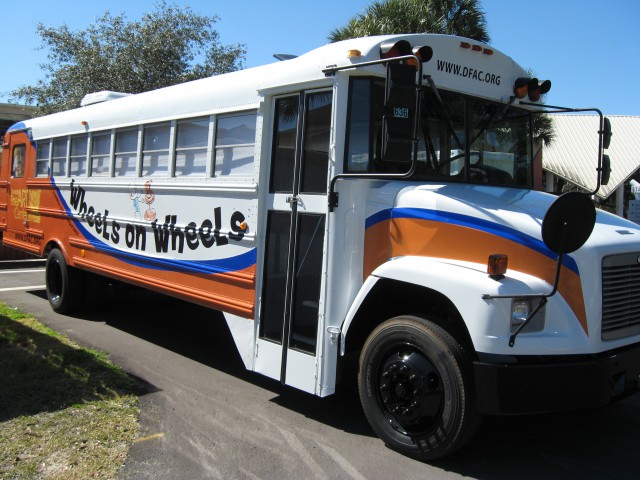 The Wheels on Wheels outreach program is an exciting and unique opportunity that is available to the public schools, charter schools, private schools, afterschool programs and the community at large. This program was created by DFAC through the support of the Pougialis/Anastasakis Trust.
This one of a kind program involves using a converted school bus as a mobile clay wheel lab. All of the seats were removed and replaced with 12 potter's wheels. These wheels are powered by an external generator installed under the bus. The primary focus is on providing a fun and educational experience for elementary school aged children and older. Corporate team building, birthday parties, community events are among the venues the Wheels on Wheels program is also available.
Thanks to the Janet Huntley Grant through the Pinellas Community Foundation, DFAC provided over 100 sessions at no or discounted costs to the Pinellas County Public Elementary Schools during the 2015 – 2022 school years. DFAC is proud to announce the continued support from the Pinellas Community Foundation through the Janet Huntley Grant for the 2022/2023 school year.  Additional funds have come in for specifically Title 1 schools from Clearwater for Youth. YAY
The youth will actively/directly participate in the program as follows: max of 10 students will be able to practice their "throwing" skills for 50 minutes with self-hardening clay on real, electric potter's wheels housed in DFAC's converted school bus. Outside the bus there will be tables for an additional 10 students to practice their hand-building skills using self-hardening clay to explore coil, pinch and slab methods. After the first 50 minutes, students will rotate so that a max total of 20 youth in a 2 hour block get to experience all phases of working with the exciting medium of clay. Covid precautions: Bus is sanitized before, during and after sessions. Masks are currently requested and hand sanitizer is available. Groups of 11 or smaller inside and outside bus for max total of 22. Five tables outside spaced appropriately. Inside bus: Combination of fresh air(select open windows) and roof top A/C for active ventilation.  Ceiling mounted video monitor for "distanced" demonstrations. 
DFAC is currently taking requests for the 2022/2023 school year. Complete info packet or request form can be found at the bottom of this page. Click here for Youth Art Classes.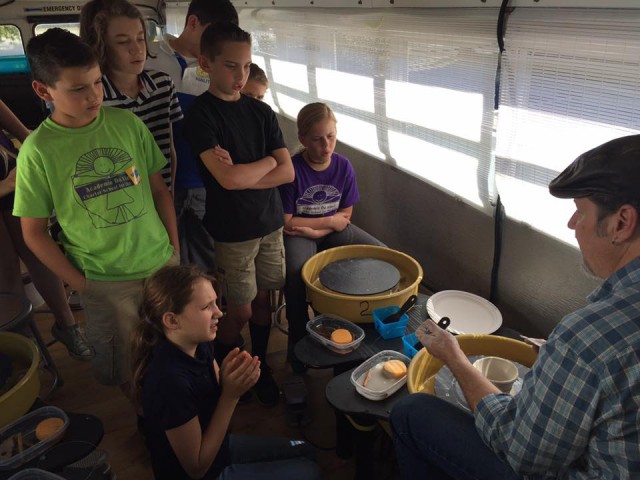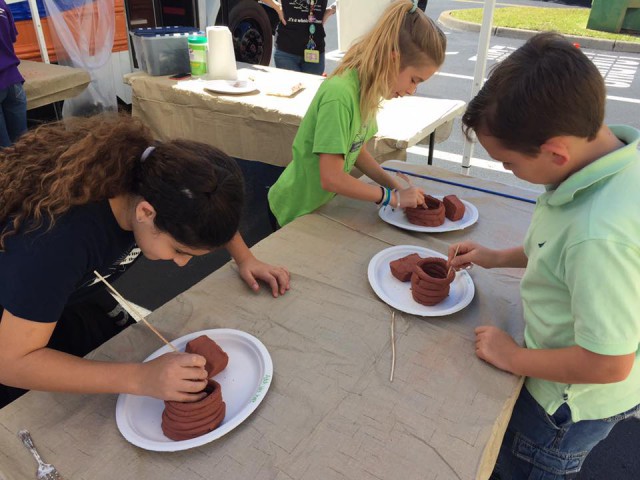 In-school, Afterschool outreach:
Flat rate $500
2 hours
22 students per each 2 hour session)
Pinellas County Public Elementary Schools ask about no-cost opportunities supported by the Janet Huntley Grant through the Pinellas Community Foundation. Specifically Title 1 schools have additional funds available supported by Clearwater for Youth.
Local Events:
Call for info
Offsite Birthday Parties(Youth or Adult):
Click here
Click here for Wheels on Wheels complete package (PDF)
Click here just for request form (PDF)
Having trouble with the links? email shannon@dfac.org for the updated forms/info.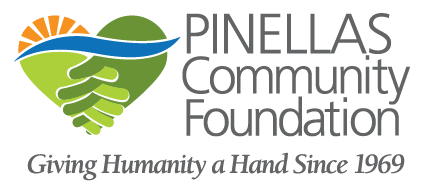 A special thank you for PCF's 7 year support of Wheels on Wheels.