Release your creative spirit and find new insights and skills within our multiple studio classrooms. Browse our offerings below, get to know our award-winning instructors, enroll in a class and start discovering the arts today!
Greetings everybody!
We follow CDC recommendations for the three current RISK LEVELS for our County.   You can Check the risk levels here.
You can also access ALL of our COVID-19 Information here.
– If you are NOT FEELING WELL, please do NOT come to DFAC!
– Classes have lower student capacities to allow for spacing
– Studios have sinks/soap/water
– Cleaning/Sanitizing  between class sessions
– Nightly "deep cleans"
We want to do the best we can with keeping everyone Happy and Healthy at all times at DFAC.
Stay safe, healthy and creative!
Next Session - Fall I: Sept 12-Oct 23
Class Session Schedule
Our classes are divided into seven 6-week sessions throughout the year. Registrations are currently available for the following sessions.
Fall I: September 12 – October 23
Fall Workshop Week: October 24-30
Fall II: October 31 – December 18 (No Classes Nov 21-26)
Fall I Classes
Or Scroll down to select a Category of Classes: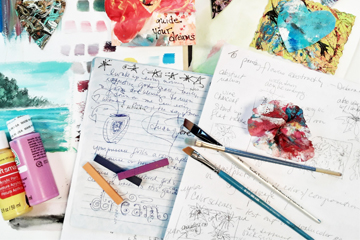 Art & Wellness
Art heals! DFAC's new Art & Wellness program explores the numerous benefits of creating art. Research has shown that art making can reduce stress and anxiety, improve vision and motor function, and improve cognitive functioning.
Art & Wellness
Business of Art
You've developed your artwork to a professional level and now it's time to start your art business. Well-established successful artists will help you overcome the hurdles, plan for success and answer questions you were afraid to ask.
Business of Art