Get your hands on some art! Currently Registering 2020 DFAC Summer Art Academy, YAY! : )
YES, we HAVE added NEW CAMPS for the Weeks of August 10th and August 17th!  Scroll Down for more information!
Greetings everybody!
There is a lot of information here about the health & safety protocols we are putting in place to help keep everyone safe & healthy.  Please take time to read all of it!
The overriding factor is, that DFAC at a minimum follows City, County and State guidelines.  This means, that you will most likely know about changes in the same time frame that we do.   We WILL keep this page updated, so please check back, if you have any concerns.  : )
What we can tell you is what DFAC has been planning. When DFAC shutdown and cancelled 12 weeks of revenue generating classes, laid off staff and reduced skeleton crew salaries in March, we started to work on adjustments to camps so that when June 1st arrives, we would be ready.  June 1st arrived and we are off to a great start.  Below is a list of some of the steps that have been addressed:
– All camps maximum attendance per group was reduced to 8 students. This allows for 1 instructor and one assistant for a max total of 10

– Studios set up with individual tables/chairs following 6ft social distancing spacing

– Staff/Instructors/assistants wear masks 

– Touchless thermometers at 3 main entrances and everyone (all ages) entering the building will be required to wear a mask (not provided by DFAC)

– Hand sanitizing at three main entrances.

– CDC signage

– Studios have sinks/soap/water

– Studios will have "healthy carts" stocked with wipes, hand sanitizer and peroxide spray

– No group gathering. Drop off, lunch and pick up will be in their individual studios (map and directions will be sent to each family the Friday before their camp starts)

– Unfortunately, the only studio space that could not be converted with social distancing protocols is the darkroom. The darkroom component for Art Squad will meet in the Douglas Whitley gallery and work with solar-grams, digital black/white photos and journaling projects

– Hands on area still closed to the public and on weekends. Soft material/activities have been bagged and removed

– 6ft spacing reminders throughout the building on floors and stanchions

– Sanitizing of "high touch" areas regularly throughout the day

– Nightly "deep cleans"
We want to do the best we can with keeping everyone Happy and Healthy this summer. This starts with you and your child. In previous summers DFAC has always promoted good hygiene with "Keep DFAC Happy and Healthy" by covering your mouth, washing your hands and not touching your face. We continue that with the CDC additional guidelines of please stay home if you are sick, wear a mask and keep 6ft social distance. As we move through summer, please have your child (if you haven't already) start getting used to wearing a mask and practicing the 6ft distancing. Practice washing hands for a full 20 seconds… slowly count to 20 or sing happy birthday twice. Whether you make it a game or not, that practice will help greatly in camps and create healthy habits.  Thank you for your patience and support.
Stay safe, healthy and creative,
Todd Still
Director of Youth Education
Up to 10 12 weeks, DFAC's Summer Art Academy offers fun, creative, cognitive experiences for kids and teens from 4½ to 14 years old.
DFAC proudly offers over 30 years of Summer Art Enrichment fun. Todd Still, Director of Youth Education, is excited about heading up his 23rd year of one of the premier summer programs in the Tampa Bay area. Art classes feature the best artists and art educators in the region – Multi-media experts with skills from Painting to Clay to Drawing to Dreamin'! Instructors have Bachelor's degrees if not Masters degrees in Art, Education and/or both! Their experiences range from teaching art in public schools, private schools, Montessori based schools, the Kent Jewish Center, Pre-schools and professional art settings.
Scroll down for 2020 weekly themes.  Check out our offerings and enroll starting March 2, 2020, as space IS limited!
Remember Save paper and register online! 
Ages
Camp
4 ½ to 5 years (for children entering Kindergarten: have to turn 5 by Augusts 31, 2020)

Week 11 added

6 to 10 years (for children entering 1st – 5th grades)

Week 11 added

8 to 12 years
Week 11 added
Week 12 Added

Click Here for Arts in Motion Information and Registration 

Weeks 4, 8  full, others filling

8 to 10 years


Week 11 added

8 to 10 years & 11 to 14 years


Week 11 added for Mural Madness 2

Week 12 Added for BOTH Mural Camps

11 to 14 years

Week 11 added
Week 12 Added
Lunch: Students need to bring lunch and can also purchase soft drinks and snacks on site. Unfortunately the Palm Café will be closed till September.
2020 Weekly Themes
Week 1      6/1 – 6/5
Jungle Cruise
Beautiful Birds, Slippery Snakes, Monkeys and more.
Week 2      6/8- 6/12
Doughnuts vs Dragons: The Rematch
The Doughnuts are back for more!
Week 3      6/15 – 6/19
Minions of Mindcraft Masterpieces
All your favorite characters come to life in your art.
Week 4      6/22 – 6/26
Dog-topia Meets Cat-tropolis 
Can Dogs and Cats live in Harmony?
Week 5      6/29 – 7/3
Mad Science
Be a mad scientist and create a Monster Mash with fluorescent, friendly, furry creatures.
**artwork to be selected for Camp Exhibit
Week 6      7/6 – 7/10
Shark Week Five
Sharks in Spaaaaace! Plus their Interplanetary Fishy Friends!!!
Week 7      7/13 – 7/17
Rockin' Robots
Artsy Robots out of recycled items!
Week 8      7/20 – 7/24
Suuuuuper – Foods
What happens when Food and Superheroes get together…
Week 9      7/27 – 7/31
Ant-Art-ica
Fabled land of Ice and Artful Ants.
Week 10      8/3 – 8/7
Sail the Seven Seas
Take a Watery Trip around the World.
Week 11      8/10 – 8/14
End of Summer Celebrations
Enjoy a sampling of this summer's themes.
Week 10      8/17 – 8/21
Group Themes
Every Group will Have a Theme Chosen Especially for Them!
Come Out and Play!
At the Dunedin Fine Art Center, we're proud to offer a little something for kids and teens of all ages! We hope you come out and play and see why everyone says the Dunedin Fine Art Center is where the art is! To learn more about our mission, and us, click here, or contact us for more information about summer camp.
Summer Academy Camp Scholarships!
The Dunedin Fine Art Center is proud to once again offer scholarships for the 2020 art enrichment summer camps(no matter where you live!). In the past, community partners such as The City of Dunedin, Dunedin Rotary, Dunedin Rotary North, the Employees of the Tampa Bay Times, Pinellas Cultural Foundation, Inc, the Pinellas Community Foundation, many individuals and organizations have granted funds to be used for this purpose.To apply for a scholarship, DFAC needs 4 or 5 items for documentation:
1. Letter from the parent as to why a scholarship is needed.
2. Drawing or letter from child as to why they would like to come to art camp.
3. Copy of a report card showing satisfactory grades.
4. Letter of recommendation.
5. Proof of Dunedin residency (City of Dunedin scholarship only).Please send the 4 or 5 items to the attention of Todd Still, Director of Youth Education, DFAC, 1143 Michigan Blvd., Dunedin, FL 34698.
NOTE: including a completed registration form is helpful : )
In addition to the scholarships outlined above, that we offer here at DFAC, Creative Pinellas ALSO has a scholarship program…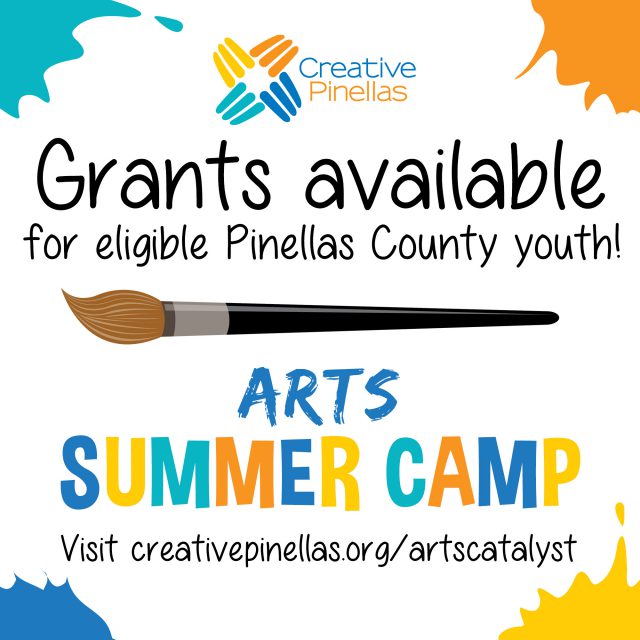 They say:
You may be eligible for a grant to go to an arts summer camp session.. If you live in Pinellas County and are 5-18 years old, go to a Title 1 school, receive a free or reduced-cost lunch, live in a foster or group home, or meet other criteria, please go to creativepinellas.org/artscatalyst to learn more, find out if you are eligible, and to apply.
Restrictions and conditions apply. Go to creativepinellas.org/artscatalyst to learn more. Eligibility does not guarantee a grant
Don't see what you're looking for here?