Get your hands on some art! Currently Registering 2020 DFAC Summer Art Academy, YAY! : )
Up to 10 weeks, DFAC's Summer Art Academy offers fun, creative, cognitive experiences for kids and teens from 4½ to 14 years old.
DFAC proudly offers over 30 years of Summer Art Enrichment fun. Todd Still, Director of Youth Education, is excited about heading up his 23rd year of one of the premier summer programs in the Tampa Bay area. Art classes feature the best artists and art educators in the region – Multi-media experts with skills from Painting to Clay to Drawing to Dreamin'! Instructors have Bachelor's degrees if not Masters degrees in Art, Education and/or both! Their experiences range from teaching art in public schools, private schools, Montessori based schools, the Kent Jewish Center, Pre-schools and professional art settings.
Scroll down for 2020 weekly themes.  Check out our offerings and enroll starting March 2, 2020, as space IS limited!
Remember Save paper and register online! 
| | |
| --- | --- |
| Ages | Camp |
| 4 ½ to 5 years (for children entering Kindergarten: have to turn 5 by Augusts 31, 2020)) | |
| 6 to 10 years (for children entering 1st – 5th grades) | |
| 8 to 12 years | |
| 8 to 10 years | |
| 8 to 10 years & 11 to 14 years | |
| 11 to 14 years | |
Lunch: Students are welcome to bring lunch and can also purchase soft drinks and snacks on site. Daily and weekly lunches are also available from the Palm Café for $6.50 per day or $26 per week.
2020 Weekly Themes
Week 1      6/1 – 6/5
Jungle Cruise
Beautiful Birds, Slippery Snakes, Monkeys and more.
Week 2      6/8- 6/12
Doughnuts vs Dragons: The Rematch
The Doughnuts are back for more!
Week 3      6/15 – 6/19
Minions of Mindcraft Masterpieces
All your favorite characters come to life in your art.
Week 4      6/22 – 6/26
Dog-topia Meets Cat-tropolis 
Can Dogs and Cats live in Harmony?
Week 5      6/29 – 7/3
Mad Science
Be a mad scientist and create a Monster Mash with fluorescent, friendly, furry creatures.
**artwork to be selected for Camp Exhibit
Week 6      7/6 – 7/10
Shark Week Five
Sharks in Spaaaaace! Plus their Interplanetary Fishy Friends!!!
Week 7      7/13 – 7/17
Rockin' Robots
Artsy Robots out of recycled items!
Week 8      7/20 – 7/24
Suuuuuper – Foods
What happens when Food and Superheroes get together…
Week 9      7/27 – 7/31
Ant-Art-ica
Fabled land of Ice and Artful Ants.
Week 10      8/3 – 8/7
Sail the Seven Seas
Take a Watery Trip around the World.
Come Out and Play!
At the Dunedin Fine Art Center, we're proud to offer a little something for kids and teens of all ages! We hope you come out and play and see why everyone says the Dunedin Fine Art Center is where the art is! To learn more about our mission, and us, click here, or contact us for more information about summer camp.
Summer Academy Camp Scholarships!
The Dunedin Fine Art Center is proud to once again offer scholarships for the 2020 art enrichment summer camps(no matter where you live!). In the past, community partners such as The City of Dunedin, Dunedin Rotary, Dunedin Rotary North, the Employees of the Tampa Bay Times, Pinellas Cultural Foundation, Inc, the Pinellas Community Foundation, many individuals and organizations have granted funds to be used for this purpose.To apply for a scholarship, DFAC needs 4 or 5 items for documentation:
1. Letter from the parent as to why a scholarship is needed.
2. Drawing or letter from child as to why they would like to come to art camp.
3. Copy of a report card showing satisfactory grades.
4. Letter of recommendation.
5. Proof of Dunedin residency (City of Dunedin scholarship only).Please send the 4 or 5 items to the attention of Todd Still, Director of Youth Education, DFAC, 1143 Michigan Blvd., Dunedin, FL 34698.
NOTE: including a completed registration form is helpful : )
Download 2020 Lunch Order Form 
In addition to the scholarships outlined above, that we offer here at DFAC, Creative Pinellas ALSO has a scholarship program…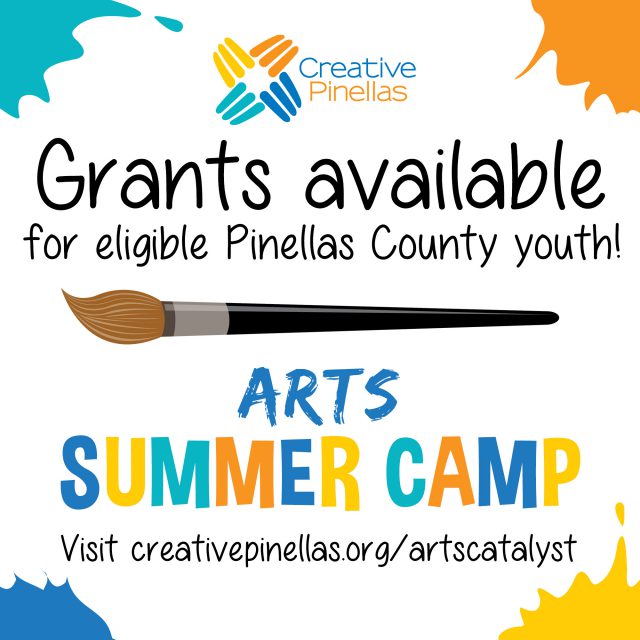 They say:
You may be eligible for a grant to go to an arts summer camp session.. If you live in Pinellas County and are 5-18 years old, go to a Title 1 school, receive a free or reduced-cost lunch, live in a foster or group home, or meet other criteria, please go to creativepinellas.org/artscatalyst to learn more, find out if you are eligible, and to apply.
Restrictions and conditions apply. Go to creativepinellas.org/artscatalyst to learn more. Eligibility does not guarantee a grant
Don't see what you're looking for here?