Get your hands on so

me

art!  Scroll down for 2022 Info.
Registration Starts 10:00 am, March 1st. YAY! : )
Pinellas County has been elevated to "High Risk" so Masks will once again be required to enter the building.
The below video is from the last two years of camp. Things have changed so please read below as to the new updates. DFAC continues to follow the CDC protocols that have kept us open and operating safely, healthy and artfully.
Greetings All!
For just over two years now, the Dunedin Fine Art Center (DFAC) has worked to protect all of our visitors, students, and staff from the effects of a global pandemic. Those efforts have ranged from closing our doors on March 17th, 2020 along with most everyone else in the country, to an ongoing set of enhanced health and safety protocols that have attempted to protect even the most vulnerable of our community. "DFAC has always been a safe place to explore your creativity," notes DFAC President, George Ann Bissett.  "We, like everyone else, just had to up our game, to meet the increased risk everyone was facing…  If all of the appreciative comments we've received, along with the students being able to share in our creative community since we were one of the first nonprofits to reopen way back on June 1, 2020, are any indication, it's been a pretty safe environment at DFAC."
DFAC is thrilled to move on to the next phase of protocols as they continue to monitor the recommendations from the CDC and Florida Department of health. Starting April 11, 2022, DFAC will be removing its mask mandate that has been in place for nearly two years. "We're thrilled that the risk level has decreased to a point that we feel comfortable doing this," said Ken Hannon, DFAC's Vice-President and COO.  "The new metrics that the CDC is working with, and their county-by-county risk assessment tools allow us to alter our strategies to align with the current situation. We hope we never have to return to stricter protocols, but we know if we do, it will be based on solid information."
Like everyone, DFAC hopes that we have learned practical lessons that will keep us all safe in the future. DFAC's protocols have kept our creative community safe, while allowing our programs to remain available to students and patrons of all ages and risk factors, without having to close our doors.  And that is a classic win-win!
You can always check here for the current RISK Status in Pinellas County.  This will be the primary factor we base all future protocols on.  THANKS TO EVERYONE who has helped keep DFAC's creative community safe and productive!
 DFAC will continue to do the following:
Starting April 11th, Masks are no longer required. If the CDC's metric moves Pinellas County to Medium-Risk, then masks will be recommended.  If the metric moves to High-Risk, then Masks will once again be required up to two weeks after metrics move back to medium.
Enrollment numbers still limited. Mini Masters: stays at 8 instead of 15, Mural 1 and 2 no more than 15 each (some years we had 20 to 25), Arts in Motion max of 15, Art squad: max of 10 in a class (40 total), iPad max of 14, Sizzlin summer 6 – 10yr olds: max of 16 in a group (total 64) before pandemic this camp would go up to and over 100 campers.
Studios set up with continued attention to spacing
Hand sanitizing at three main entrances.
CDC signage
Studios have sinks/soap/water
Studios will have "healthy carts" stocked with wipes, hand sanitizer and peroxide spray
No group gathering. Drop off and pick up will be in their individual studios (map and directions will be sent to each family the Friday before their camp starts)
Due to distancing, the darkroom component for Art Squad will meet in the Douglas Whitley gallery and work with digital black/white photos, solar-grams and journaling projects
Hands on area still closed to the public during camp weeks but will be open on weekends.
Sanitizing of "high touch" areas regularly throughout the day and Nightly "deep cleans"
We want to do the best we can with keeping everyone Happy and Healthy again this summer. This starts with you and your child. In previous summers DFAC has always promoted good hygiene with "Keep DFAC Happy and Healthy" by covering your mouth, washing your hands and not touching your face. We continue that with the CDC additional guidelines of please stay home if you are sick and pay attention to Pinellas County's metric/risk level. As we move closer to summer, please have your child continue to be mindful of distancing/personal space and practice washing hands for a full 20 seconds… Whether you make it a game or not, that practice will help greatly in camps and create healthy habits.  Thank you for your patience and support.
Todd Still
Director of Youth Education
To see a copy of the Camp info Feb 2022 – April 6 2022 click here.
Up to 10 weeks, DFAC's

Summe

r Art Academy offers fun, creative, cognitive experiences for kids and teens from 4½ to 14 years old.
DFAC proudly offers over 30 years of Summer Art Enrichment fun. Todd Still, Director of Youth Education, is excited about heading up his 25th year of one of the premier summer programs in the Tampa Bay area. Art classes feature the best artists and art educators in the region – Multi-media experts with skills from Painting to Clay to Drawing to Dreamin'! Instructors have Bachelor's degrees if not Masters degrees in Art, Education and/or both! Their experiences range from teaching art in public schools, private schools, Montessori based schools, the Kent Jewish Center, Pre-schools and professional art settings.
Scroll down for 2022 weekly themes.  Check out our offerings and enroll starting March 1, 2022, as space IS limited! Remember Save paper and register online!  Note: Tuition is non-refundable.
ENROLLMENT UPDATES:(Note: info on exact openings for camps are visible when registering)
SSV: 1 – 10 full, waitlist started
Mini Masters: weeks 1 – 10 Full  
iPad:  week 2, 8, 9 full
Arts in Motion Theater: week 9 full
Mural Madness I:  week 9 full 
Mural Madness II: All weeks open 
Art Squad: week 4 full 
Pinellas County has been elevated to "High Risk" so Masks will once again be required to enter the building.
The Summer Art Academy offers seven camp programs based on age groups.
Click here to

Download the 2022 Summer Art Academy brochure!
Ages
Camp
4 ½ to 5 years (for children entering Kindergarten: have to turn 5 by Augusts 31, 2022)


$195 Members/ $215 Non-Members

6 to 10 years (for children entering 1st – 5th grades)

$195 Members/ $215 Non-Members

 

8 to 12 years

$195 Members/ $215 Non-Members

8 to 10 years

$195 Members/ $215 Non-Members 

8 to 10 years & 11 to 14 years

$195 Members/ $215 Non-Members

$195 Members/ $215 Non-Members

11 to 14 years


$205 Members/$225 Non-Members
Note: Tuition is non-refundable
Extended Care
For a more flexible drop off and pick up time, extended care is
available for $50 per camper/week. Hours are 7:30 – 9:00 a.m., and
3:15 – 6:00 p.m. Mini Masters require an older sibling in order to
participate.
Lunch: Pre-arranged lunches can be paid for separately through the Palm Cafe. Menu will be available late April/early May. Otherwise, students need to bring lunch and can also purchase soft drinks and snacks on site.  Menu available HERE
2022 Themes
Week 1      5/31- 6/3 (4-day week)
Artsy Architecture:
Build and Blend Building Styles from across the Centuries.
Note: Artwork from this week will be selected for Summer Camp Exhibit.
Week2     6/6 – 10
Amazon Adventures:
Hang Out with Vines, Monkeys, Arrow Frogs, and Pink Dolphins.
Week 3     6/13 – 17
Pandas and Pyramids:
What would the Pharaohs look like if they ate Bamboo?
Week 4     6/20 – 24
Ani-maniacs:
All your favorite Cartoon/Comic Book/Anime Characters come to Life.
Week 5     6/27 – 7/1
Aussie Walk-about:
Kangaroos, Koalas and Tasmanian Devils Abound!
Week 6     7/5 – 8 (4 – day week)
4th of July Dino-Celebrations:
Dinosaurs with Sparklers?
Week 7     7/11 – 15
Shark Week VII (7 years wow!) Sharky Business:
Big City, Suits, Ties, Laptops & Briefcases.
Week 8     7/18 – 22
Sloths and Snakes on Saturn:
Silly Space Expedition to the Ringed Planet.
Week 9     7/25 – 29
Wyverns, Phoenixes and Fairies:
Mythical Creatures in Flight.
Week 10     8/1 – 5
Island Explorer:
Volcanoes, Palms, Sea Critters, and Amazing Tree Houses.
Come Out and Play!
At the Dunedin Fine Art Center, we're proud to offer a little something for kids and teens of all ages! We hope you come out and play and see why everyone says the Dunedin Fine Art Center is where the art is! To learn more about our mission, and us, click here, or contact us for more information about summer camp.
DFAC's Summer Academy Camp Scholarships!
Note: Only Complete Packages Accepted!
The Dunedin Fine Art Center is proud to once again offer scholarships for the 2022 art enrichment summer camps(no matter where you live!). In the past, community partners such as Clearwater For Youth, Creative Pinellas, The City of Dunedin, Dunedin Rotary, Dunedin Rotary North, Dunedin Youth Guild, Jessica's Youth Scholarship Fund, Pougialis/Anastasakis Foundation for Art, Miniature Arts Society of Florida, Pinellas Community Foundation, many individuals and organizations have granted funds to be used for this purpose. To apply for a scholarship, DFAC needs 4 or 5 items for documentation together in a complete package:
1. Letter from the parent as to why a scholarship is needed.
2. Drawing or letter from child as to why they would like to come to art camp.
3. Copy of a report card showing satisfactory grades.
4. Letter of recommendation.
5. Proof of Dunedin residency (City of Dunedin scholarship only).
Please send complete package to the attention of Todd Still, Director of Youth Education, DFAC, 1143 Michigan Blvd., Dunedin, FL 34698.
NOTE: including a completed registration form is helpful : )
Click here for Parent Welcome Packet(this gets automatically emailed when registered)
In addition to the DFAC scholarships outlined above, Creative Pinellas ALSO has a scholarship program…They will be updating/activating their link below soon.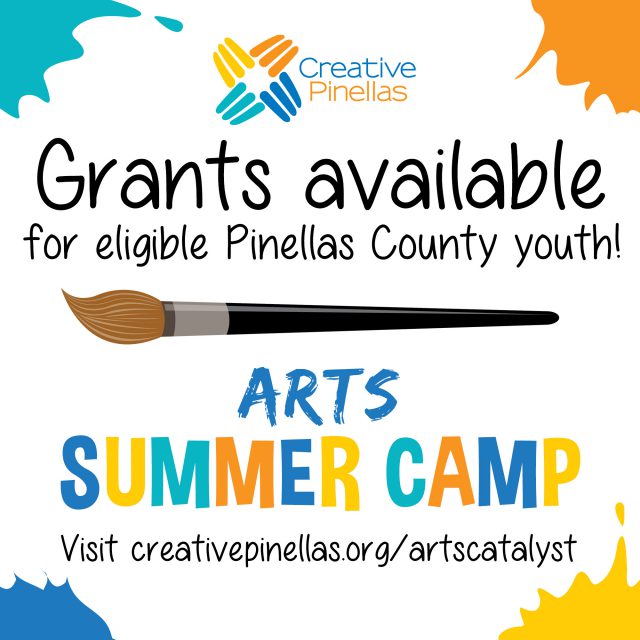 They say:
You may be eligible for a grant to go to an arts summer camp session.. If you live in Pinellas County and are 5-18 years old, go to a Title 1 school, receive a free or reduced-cost lunch, live in a foster or group home, or meet other criteria, please go to https://creativepinellas.org/gotosummercamp/ to learn more, find out if you are eligible, and to apply.
Don't see what you're looking for here?