W-PR201 - Intro to Zine Making
Instructor: Damme, Coralette
Day of Week: Sat 10:00 am - 2:00 pm
Location: Dunedin Fine Art Center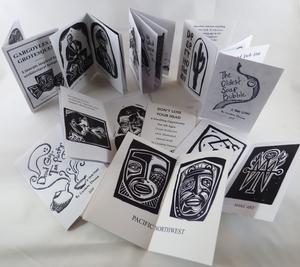 Zines are typically small self published works that are reproduced on copy machines and traded between creators. Come make your first (or your fiftieth) zine in this fun introductory workshop! You don't have to be a professional cartoonist to draw a zine--your zine can be more about text or collage than drawing if you prefer. Zines can be funny, poetic, newsy, about a hobby, or whatever you want to express! You'll learn to fold a small 8 page "mini-zine" made from a single sheet of paper. After you've created your zine we'll copy them and trade among members of the class so you'll go home with a great start to a new zine collection of your very own!
Your instructor, Coralette, has participated in numerous "zine-fests" in both Tampa and St. Petersburg and is addicted to collecting and trading these treasures!
There is a $10 supply fee payable to the instructor
W-PR202 - Rubber Stamp Carving for Beginners
Instructor: Damme, Coralette
Day of Week: Sat 10:00 am - 2:00 pm
Location: Dunedin Fine Art Center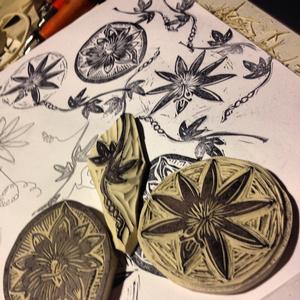 Local Artist Coralette Damme is going to share her special stamp carving secrets with you during this fun workshop! In just a couple of hours you will experience the thrill of turning your own simple design into a permanent rubber stamp! Supplies and tools needed to carve a rubber stamp and print a few greeting cards will be provided, all you need to bring is an image and a friend! Your image can be a simple drawing --thick lines work best for your first effort--or a black and white copy of a photograph. Images should be about the size of a business card. If you don't know what to make don't worry! You can make a monogram of your initials or even just an abstract pattern. You'll enjoy learning the basic process of relief printing as you carve your rubber stamps, as similar technique is used to create more elaborate linocut prints! A $10 materials fee will be payable to the instructor.
W-FB969 - Simple Screen Printing on Fabric
Instructor: Damme, Coralette
Day of Week: Sat 10:00 am - 2:00 pm
Location: Dunedin Fine Art Center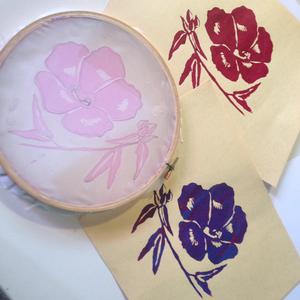 This is a 1 day workshop.

Learn a simple yet effective process for making your own screen prints that you can continue to do at home! You'll learn how to use every day materials to create a simple silkscreen design and print it on your own tea towel! Simple designs with thick lines(think fat marker not skinny pencil lines) or shapes work best--don't know what to make? How about a monogram of your initials or some symbol that you identify with... or work from a black and white photo (not shades of gray) You'll make a single color image about 5x5 inches in size. Bring extra T-shirts, bags or other fabric items to print if desired. If you have one, a hair blower is useful for quickening the drying process.

A $15 materials fee is paid directly to the instructor.