969W - Simple Screen Printing on Fabric
Member Tuition: $55.00
Skill Levels: All Levels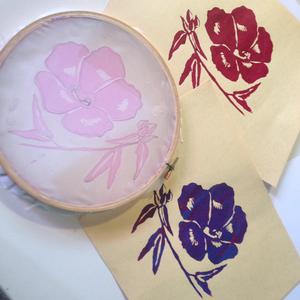 Instructor: Damme, Coralette
This is a 1 day workshop.
Learn a simple yet effective process for making your own screen prints that you can continue to do at home! You'll learn how to use every day materials to create a simple silkscreen design and print it on your own tea towel! Simple designs with thick lines or shapes work best--don't know what to make? How about a monogram of your initials or some symbol that you identify with... You'll make a single color image about 5x5 inches in size. Bring extra T-shirts, bags or other fabric items to print if desired.
A $12 materials fee is paid directly to the instructor.
516W - The Multiple Color Linoleum Print
Member Tuition: $160.00
Skill Levels: All Levels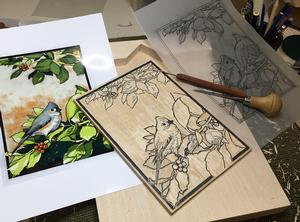 Instructor: Bird, Holly
An introduction to multiple color linoleum block printmaking for all levels. There will be a handout — we'll cover some brief history, see examples and discuss the importance of good design and planning before starting. By the end of this 2-day workshop, a student will have editioned an approx. 5" x 7" linoleum print in 2 to 3 colors and will be able to pursue multiple color relief printing in their home studio without needing a press. This workshop will be especially suitable for making your holiday cards for 2017!