Calligraphy: Frank Lloyd Writes!
W-CG201
Day of Week: Sat 9:00 am - 1:00 pm
Location: Dunedin Fine Art Center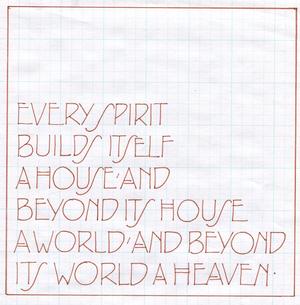 Write like a famous architect! Armed with a sharp pencil and graph paper, you can re-create arts & crafts style lettering based on the Eaglefeather type font. Designed from Wright's own personal pencil lettering for blueprints, Eaglefeather with its 1920's flavor is an excellent introduction into the wide world of calligraphy. The simple capital letters can be sketched with a pencil or fine-line pen. Build your lettering skills for future design projects or use with cards, envelopes, placards, & scrapbooks.
Color Calligraphy
W-CG114
Day of Week: Sat 10:00 am - 4:00 pm
Levels: Intermediate,Advanced
Location: Dunedin Fine Art Center

Using artist's watercolors and gouache in the calligraphy pen, transform your hand-lettering from subtle to vibrant. Learn to use black, white, greys, neutrals, earth pigments, and special effects like rainbow lettering. Great for titles, posters & art pieces. Level: intermediate - Some prior experience with basic calligraphy & dip style pens.