Discover Watercolor Pencils
W-DR425
Instructor: Nece, Melissa Miller
Day of Week: Sat & Sun 10:00 am - 4:00 pm
Location: Dunedin Fine Art Center
Water soluble colored pencils combine the precision and control of pencil drawing with the fluid possibilities of watercolor paint. They're especially useful for travelers and plein air artists, great for sketchbooks and journals. Come explore the many ways these versatile drawing tools can be used—wet or dry, alone or for mixed media. Derwent, leading makers and innovators in this fine art medium, will provide all the pencils for use in this class. (And you'll get to keep some too!)
Portrait Drawing Workshop
W-DR106
Day of Week: Sat 10:00 am - 2:30 pm
Levels: Intermediate,Advanced,Professional,
Location: Dunedin Fine Art Center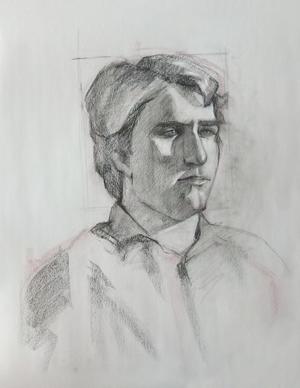 Capturing the likeness of a person in a portrait is a challenging yet important part of learning to draw people. In this workshop, students will learn drawing techniques through demonstrations by the instructor and then apply what they've learned by drawing real-life models. There will be a strong focus on proportion, structure, and value (lights and darks).
In A Galaxy Not So Far Away One Day Open Studio for Youth, Teen and Adults
W-YH604
Day of Week: Fri 6:00 pm - 8:00 pm
Location: Dunedin Fine Art Center
In this one day, open studio type workshop, bring your medium of choice and capture a bit of Sci-Fi history in this one time opportunity to draw from Todd Still's Star Wars Collection. Helmets from some of your favorite characters like vader, fett, skywalker, tie fighter pilot, biker scout, gunner, plus the evolution of 4 generations of troopers and some weaponry. We always start out in sketch mode, look for basic shapes/forms, and then bring our drawings into focus with shading and details. Background movies will be playing along with some toys for atmosphere and reference. We won't stop you from wearing your favorite Episode! Open Studio monitored by Ahl Sundar, the Bounty Hunter…so watch it! Ages 10 – 110