FB931 - Artful Basketry
Member Tuition: $167.00
Non-Member: $197.00
Mat'l/Lab Fee: $35.00
In this class, students will create at least one traditional and at least one original sculptural basket. Students will learn to prepare reed, collect and prepare natural materials, incorporate man made materials and dyeing techniques. The instructor will supply plenty of natural materials, found objects and unique yarns.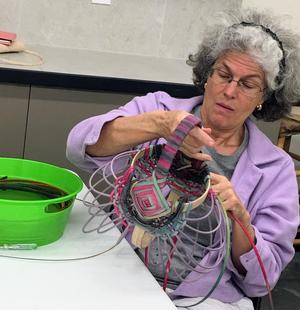 ---
Available Schedules:
To register online, choose a scheduled class
11/03/20 - 12/15/20
Fall II
Dunedin Fine Art Center
1143 Michigan Blvd., Dunedin, FL
Tues [1:00 pm - 4:00 pm]
Instructor: Bowman, Bonnie
Note: Wear old clothes or bring an apron.