Day of Week: Mon, Tues, Thur 6:00 pm - 9:00 pm
Levels: Beginner,Intermediate
Location: Institute for Creative Arts
Non-Member: $280.00
Mat'l/Lab Fee: $25.00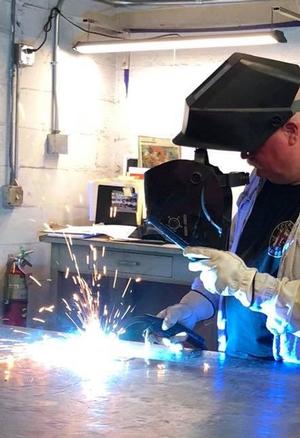 Students will learn welding techniques in mild steel, aluminum, stainless steel, and plasma cutting. Learn Mig (wire feed) and Tig (tungsten Inert Gas) welding, as well as the basics of welding equipment set-up, maintenance, and safety procedures. All welding materials furnished. Bring leather gloves, wear long pants and good safety shoes. No flip flops or tennis shoes! Class meets three times - Saturday & Sunday and followed by another Saturday .....ABOUT THE INSTRUCTORS: Bill Coleman is the owner of Arc Angels, Inc. and the Institute for Creative Arts with over 50 years in metal fabrication. Bill holds a US Patent from inventing an aluminum guard railing system. His metal creations are installed throughout the United States. Dale Tucker is a metal fabricator and business owner for over 50 years. He is an expert welder and instructor in "Mig & Tig" welding.
Day of Week: Sat, Sun, Sat 9:00 am - 12:00 pm
Levels: Intermediate,Advanced,Professional
Location: Institute for Creative Arts
Non-Member: $280.00
Mat'l/Lab Fee: $30.00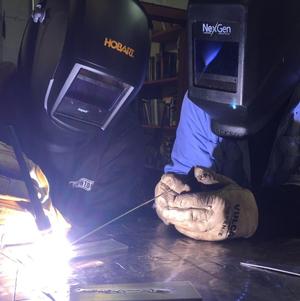 Welding II focuses on both "Mig & Tig" welding. Learn metal working machines to fabricate an aluminum or steel project.

Please have welding gloves, long paints and closed toe shoes. All materials furnished. This class meets on Saturday, Sunday and the following Saturday. The Institute for Creative Arts is located at 968 Douglas Avenue, Downtown Dunedin, (727) 412-8862.
DFAC Gift Certificate
5276
Day of Week: TBD TBD - TBD
This $276 Gift Certificate allows a member student to take a regularly priced Adult class. It does not include materials or model fees if applicable.
Your Invoice serves as the Gift Certificate, which must be redeemed in person.