Original Artifacts article by Mitzi Gordon
Donors can make an everlasting contribution to art by supporting the Legacy Society at the Dunedin Fine Art Center. These planned gifts preserve cultural values and make it possible for the art center to grow for generations to come. Since its inception, the Wheels on Wheels program continues to help sustain the artistic future of our community.
That's why Nick Anastasakis and his family decided to build a lasting relationship with DFAC. Wheels on Wheels is now a staple in the art education community through the support of the Pougialis/Anastasakis Foundation for Art and the Pinellas Community Foundation.
What is Wheels on Wheels?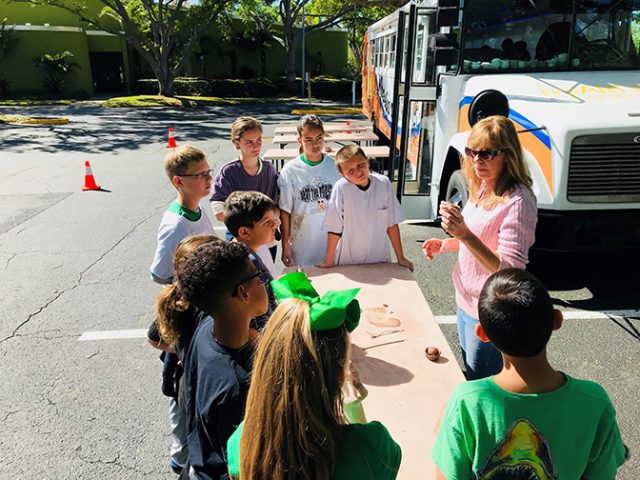 More than 2,500 school-age children have climbed aboard since the Wheels on Wheels bus launched in February 2016. In 30-45 minute sessions, they learn and practice basic pottery techniques, getting hands-on experience with new skills and tools.
The program serves up to 22 children at a time. Using a variety of self-hardening clay, students create pinch and coil pots and learn to practice throwing on a pottery wheel.
"They all walk away with something," Still said. "It's an experience and great exposure to the process."
Tampa Bay Recognizes Wheels on Wheels
In February of 2018, the Wheels on Wheels program received recognition from for its enrichment of youths through art. Wheels on Wheels became a finalist in the "Be More Awards", hosted by WEDU. Non-profit and not-for-profit organizations from 16 Florida counties participated in the awards competition. The judges placed Wheels on Wheels in the "Be More Enriched" and "Non-Profit of the Year" categories. The awards recognize organizations who work to make a difference and improve the lives of citizens in the Tampa Bay Area.
Although Wheels on Wheels did not win in its nominated categories, Dunedin Fine Art Center's youth education director Todd Still enjoys the honor and recognition from others seeing the value the program provides the community.
"It's very rewarding to see the impact on so many different levels," he said. "Being able to offer experiences they wouldn't normally have." "From start to finish, it's kind of magical when the kids
get on the bus."
Continuing a Mother's Legacy

Nick, whose family's legacy gift helps make those wheels go around, explains that youth education was of special importance to his late mother Helen Pouglialis Anastatakis.
"My mother was an educator, and she wanted to make sure that the money left behind would go toward children's education, especially for very young children," Nick said.
Nick studied interior design at the University of Alabama, and eventually took over his father's business, Ember Sewing Machines.
"I've always been around art, that's part of my education," he said. "What's scary is that in education today, in many places, they are weeding important things like art out of curriculums." That's why he finds the Wheels on Wheels program, in a word: "Fantastic."
"Its a really great way of giving a touch of art to kids who can't get elsewhere," he said. "Mathematics and art are very well blended, so it also helps with other areas of education."
Learn How You Can Give
A Legacy Society donation shares the gift of art and makes the Dunedin Fine Art Center better for future generations. For more information on Legacy Donations, please click here or email Linda@dfac.org.