Another Dimension:
Kids Explore the Virtual World at DFAC
by Mitzi Gordon
Equipped with cutting-edge tools, youth at the Dunedin Fine Art Center are journeying into new worlds … virtual ones.
Three new virtual reality stations are now part of DFAC's Youth Education program, purchased with the help of the Pougialis/Anastasakis Foundation for the Arts.
The technology is taking student work to the next level, as elementary-school age kids learn to bring two-dimensional content into the 3D realm. Todd Still, DFAC's Director of Youth Education, said they would like to eventually translate the six-week program into summer camps and weeklong workshops.
"What's wild about this is that you can walk through your drawing, you can walk around it in the program … it's very immersive," Todd said. "It completely blows their mind. Even the adults that tried it are pretty much blown away."
Run through three gaming laptops designed with extra processor memory, along with headsets and controllers, the VR stations are portable enough to travel to schools and birthday parties
In class, students create their favorite character with traditional materials, constructing a 3D model, and then use laptops and controllers to draw each creature in virtual space. They learn to depict a subject from multiple angles, and consider how it would look rotating in space. Giant dinosaur heads and Pikachu characters take shape under their careful attention.
"They have to build their drawings very much like a sculptor would, being mindful of the curves and surfaces," Todd said.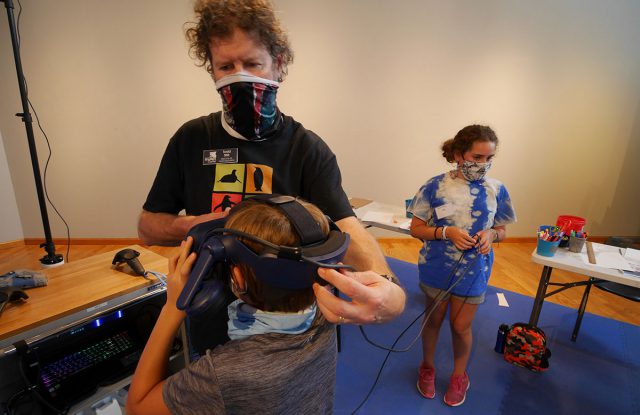 Students have a vast range of colors to pick from, and special animated brushes that simulate real-world textures such as cake icing, duct tape, or even electricity. They save their work by recording a 5-second video of their drawing in action — many of which are playing on a monitor in the Kokolakis Family Youth Gallery.
Andrew Kellman, age 8, is taking a VR class and also attends Summer Art Camp at DFAC. He said he enjoys playing video games and is interested in animation.
"I like the 3D classes where I get to use different materials to build things," said Andrew, who digitally painted an image of his dog using fur-animation brushes. "It's really cool, you get to pick what you want to draw and use all the different brushes."
The Art Center offers several classes for tech-minded youth, such as iPad animation — using apps to create and manipulate art — and Photoshop, or digital painting. To learn more about programs for the gamer in your family, visit www.dfac.org/take-a-class.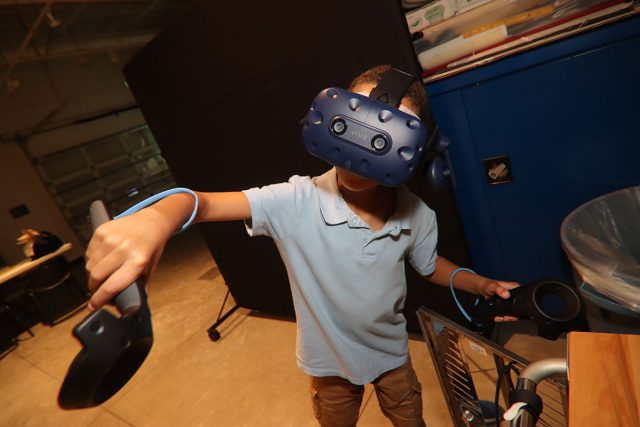 Circle of Caring Scholarship Funds
(October 1, 2018 to 9/30/2020 )
Circle of Caring Adult Scholarship Fund donations

Holly A. Bird & Robert J. Carr

Roberta Black

Pat Crockett

Lionel & Dianne Wheatley Giliotti

Nick & Phyllis Gorshe

Gwen Hamlin & Don Wilson

Virginia Howie

Joan & William Kistner

Elisabeth Lawson

Isreal "Butch" & Elaine Miller

Pegoty & Rich Packman

Joy Pollack

Sir Speedy

Jerry & Dorothy Trembley
Circle of Caring Youth Education Scholarship Fund donations

Disney Worldwide Services, Inc

Deane Horne

Harry Lester & Morgan Galazia

Nature's Food Patch

Cathy A. Wagner / Wagner Advisory Group
Art Academy (Summer Camps) Scholarship Fund donations

Roberta Black

Susan S. Castleman

Elthea Childress

Penny Colombo

Creative Pinellas

Dunedin Rotary Club Foundation

The Dunedin Youth Guild, Inc.

GFWC North Pinellas Woman's Club

Jennifer Nolletti Memorial Art Foundation

Amy Heimlich & Ed Koslow

Christine Hand Parliman

Cheryl Riley

Rotary Club of Dunedin

Rotary Club of Dunedin North

Tampa Bay Surface Design Guild
SCENES from the DFAC Archives