It never ever fails to amaze. And impress. Every saunter into the Kokolakis Family Youth Gallery   is a soul-filling journey as witness to something wonderful from Pinellas County school students, whose work is showcased against a backdrop of "Sunflower Yellow" gallery walls.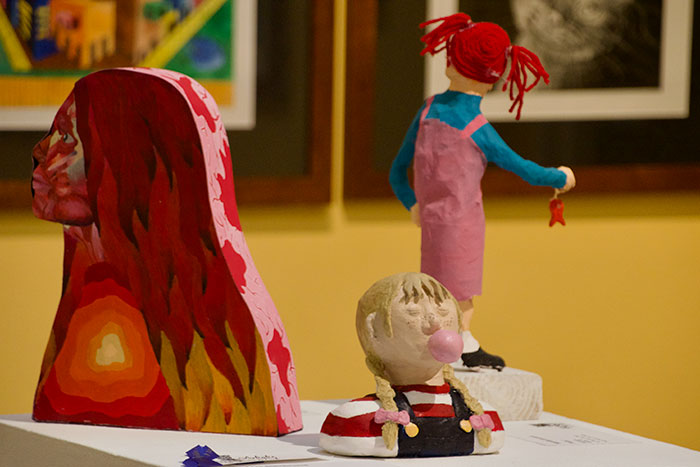 I wanted the gallery to be bright and uplifting," Todd Still youth education director explains of the unusual color choice. "The brightness accents/enhances the equally bright and colorful children's artwork."
The exquisite entry doors, originally from the Roebling Estate (of Brooklyn Bridge fame), anchor the welcome. "When we expanded in 2010, a mutual Board Member, Diane Wheatley-Giliotti made the connection, and we designed the gallery to accommodate the unique doors."
Nice move. It's conscientious and thoughtful details like these that set the scene for the stars of the show…student artwork.
"Art is communication and the youth are fearless (as opposed to adults) when creating the works. It is important to be heard and through colors, lines, textures, etc., the youth are speaking/expressing their thoughts, feelings and observations."
But how did this brilliant and lively achievement come to be?
Todd tells us, "For years, the County and others used to request youth exhibits but DFAC did not have a dedicated space for the youth and most exhibits are planned out three years in advance so DFAC's gallery spaces were not available. In the 2010 expansion, we wanted to make sure the youth had a formal gallery space with lighting. After its completion in 2010, the space has had solid programming with four Pinellas County wide school exhibits (featuring k – 12th grades), one City of Dunedin Showcase exhibit and one DFAC Summer Art Academy exhibit."
During the summer, the Kokolakis gallery is used for the Mini-Masters pre-school camp—a sweet entry point to artistic life.
Appreciation, inspiration, joy, a hint of melancholy and pure wonder infuse the experiences inside. Captivating self-portraits, artistic ponderings, sculptures and more are on display in rotating exhibits throughout the year making it more than worthwhile to return again and again.
"I love how the youth interpret and then represent subjects according to their perspective (both figuratively and literally)," Todd says. "Also seeing the varying skill and developmental levels come alive with the different media."
It must be truly rewarding for school children to have their work elevated to the gallery wall.
"Just seeing the students (and their parents) faces light up when they see their work presented in a formal gallery setting (framed, exhibit tags and lighting) makes for hundreds of special moments."
Story and Photography by Leslie Joy Ickowitz