Instructor: Kuehn, Noriko
Day of Week: Mon 1:00 pm - 3:00 pm
Location: Dunedin Fine Art Center
Learn the simple and serene world of painting Sumi-e (painting with ink) and Japanese Kanji Calligraphy (Shodo). This casual class is for anyone and covers the basic skills of Japanese brush painting for beginners, as well as more advanced techniques for experienced learners. Learn Shodo techniques with Japanese brushes. Master brushstroke control to draw Japanese characters, such as "heart" and "moon." The class also focuses on Sumi-e to draw images, such as Bamboo and Koi fish. Learn the historical and cultural background of Shodo and Sumi-e. The lecture will be minimal with focus on plenty of hands-on studio time. Learn how to balance Yin and Yang, using the contrast of ink to create the desired results. *A $10 materials fee is paid directly to the instructor to cover cost of sumi ink and use of Japanese brushes for session. Instructor will provide a variety of Japanese papers to try in the first class.
Zen Brush Art & Japanese Calligraphy
CG380
Instructor: Kuehn, Noriko
Day of Week: Wed 1:00 pm - 3:00 pm
Location: Dunedin Fine Art Center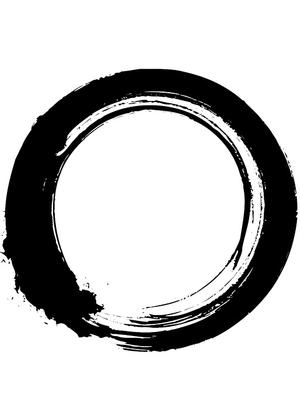 This 2000 year old art form is practiced by Zen Masters who adhere to the practice of meditation in preparation for painting. Noriko will start the class with a Zen meditation and serve tea in preparation for Zen Brush techniques. Zen calligraphy differs from other calligraphic disciplines as it is focused on the realization of "no-mind." Furthermore it is the expression of Zen through a brush, whether the result is a single stroke, a Zen circle, or an ink painting. Enso is a Japanese word meaning "circle" and a concept strongly associated with Zen. Enso is one of the most common subjects of Japanese calligraphy even though it is a symbol and not a character. ... In Zen Buddhist painting, enso symbolizes a moment when the mind is free to simply let the body and spirit create. There is a $10 materials fee paid directly to the instructor.
Calligraphy: Frank Lloyd Writes!
W-CG201
Day of Week: Sat 9:00 am - 1:00 pm
Location: Dunedin Fine Art Center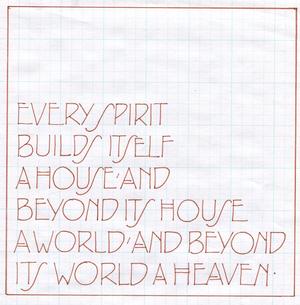 Write like a famous architect! Armed with a sharp pencil and graph paper, you can re-create arts & crafts style lettering based on the Eaglefeather type font. Designed from Wright's own personal pencil lettering for blueprints, Eaglefeather with its 1920's flavor is an excellent introduction into the wide world of calligraphy. The simple capital letters can be sketched with a pencil or fine-line pen. Build your lettering skills for future design projects or use with cards, envelopes, placards, & scrapbooks.
Calligraphy: Stately Roman Capitals
CG103
Day of Week: Mon 6:30 pm - 9:00 pm
Location: Dunedin Fine Art Center
The classic shapes of Roman letters and the longevity of Imperial Rome are alive today in our many Roman type fonts. Calligraphers use pen-written Roman caps with most all their lower-case alphabets. Timeless, stately and beautiful when drawn with pencil, they can be written with flat brush, or lettered with a broad pen. All three sets of tools should be in your calligraphers toolbox. We'll work on various papers, fabric and possibly even write on a stone keepsake.
Calligraphy: Tiny Hands
CG102
Day of Week: Mon 6:30 pm - 9:00 pm
Location: Dunedin Fine Art Center
Two scripts in six weeks! Foundational style, a 20th century Roman manuscript hand, and an equally beautiful tiny script Carolingian, first written in the time of Charlamagne. Modernized and adaptable to smaller sizes, each is useful for presentations, document lettering, broadsides, poems, formal envelope addressing, handwritten books & much more. If you've never taken calligraphy this is a great starting point. Intermediate level students will get to create a handwritten book or journal.
Color Calligraphy
W-CG114
Day of Week: Sat 10:00 am - 4:00 pm
Levels: Intermediate,Advanced
Location: Dunedin Fine Art Center

Using artist's watercolors and gouache in the calligraphy pen, transform your hand-lettering from subtle to vibrant. Learn to use black, white, greys, neutrals, earth pigments, and special effects like rainbow lettering. Great for titles, posters & art pieces. Level: intermediate - Some prior experience with basic calligraphy & dip style pens.