CW101 - Calligraphy: Blackletter Style
Day of Week: Mon 6:00 pm - 8:30 pm
Location: Dunedin Fine Art Center
Bold black inkstrokes on snow white paper makes a powerful statement. Dragon-ish Blackletter capitals with beaks & claws grab for attention. This style in the Gothic family can be used for awards, diplomas, & formal occasions or just for fun on a poster or Christmas card. Study real vellum manuscripts and beautiful modern examples…perhaps even design your own tattoo!
W-CW102 - Calligraphy: Frank Lloyd Writes!
Day of Week: Sat 10:00 am - 1:00 pm
Location: Dunedin Fine Art Center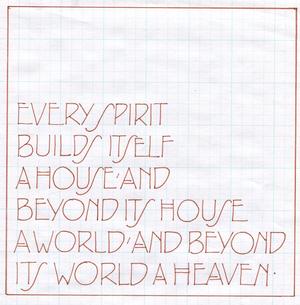 Write like a famous architect! Armed with a sharp pencil and graph paper, you can re-create arts & crafts style lettering based on the Eaglefeather type font. Designed from Wright's own personal pencil lettering for blueprints, Eaglefeather with its 1920's flavor is an excellent introduction into the wide world of calligraphy. The simple capital letters can be sketched with pencil or fine-line pen. Build your lettering skills for future design projects or use with cards, envelopes, placards, & scrapbooks.