Conjuring tribal styles and symbols, mixed media artist Demeree Barth explores found-object sculpture, painting, and printmaking from her studio based in Largo, Florida.
Known in the art world as DemiGod, Demeree has worked for more than a decade as an elementary school art educator in Pinellas County, while carving out time to create her own artwork. Her current process includes marrying found objects with ceramic clay to produce sculptural figures and wall hangings inspired by the folk art of American Southwest cultures, and imagery from Mexico and Africa.
You can find her DemiGod art in exhibits and gallery shops at the Dunedin Fine Art Center, as well as the Morean Art Center and Florida CraftArt in St. Petersburg. This recent addition to DFAC's talented roster of instructors brings brand new workshops to the center. We caught up with her for a question-and-answer session about inspirations, wearable art, and that unique moniker.
What inspires the imagery and material choices in your artwork?
Found objects have played a big role in my artwork these last few years, and ever since I discovered the surprises that nature leaves here in Florida (and flea markets!), I have no shortage of inspiration. I draw on art history from world cultures, science, and religions for imagery inspiration in my work. Some motifs are becoming familiar, and I embrace them: the heart, triangular rays of light, metallic gold, and the all-seeing eye are symbols I love to use again and again.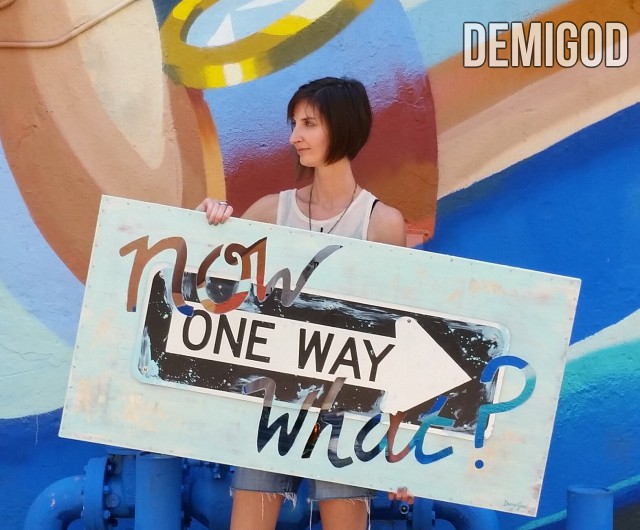 Tell me about your alias, DemiGod.
My unusual birth name, which I love, is Demeree.  In school my friends shortened it to Dem, but in college, one of the subjects I was photographing, a family friend and priest, called me Demigod.  I thought it was just odd enough, so I started to refer to myself as that in the art realm when I moved to the St. Petersburg area in 2004.  I changed it a bit, to DemiGod, and think it is an easier name for people to remember.
How long have you been a DFAC instructor?
I am pretty new to the DFAC teaching staff, and held a one-night workshop on mixed media heart wall hangings in the past. I will be teaching Palm Masks: Mask Making From Nature on August 14 and October 16, and Silkscreen Techniques in Mixed Media Painting on October 22-23.  I am really excited that DFAC was accepting of my proposal to teach these never-before-offered classes.
What other ways do you engage with the Art Center?
My first involvement with DFAC was when I entered a piece in their Saints ALIVE! Exhibit in 2013, where I met the effervescent curator Catherine Bergmann.  From then on, I have continued to soak up DFAC staff's good vibes and enter artwork in many other group exhibits, including multiple pieces alongside amazing artists in Beauty and the Beast in 2015.
I was selected to paint a dolphin for the Dolphin Trail, which stands at the water in front of the Dunedin marina, and I put an Oaxaca folk art inspired twist on the sculpture. I have also given an artist talk at Coffee & Conversations this year.  I volunteer a bit, and have participated in the Wearable Art and Dia de los Muertos Wearable Art Shows for two years in a row, which I love.
Can you share a favorite story from Wearable Art?

I remember hearing about Wearable Art a couple years before I worked up the nerve to participate.  When I did for the first time in 2015, I created three outfits inspired by the Hopi Indians Kachina dolls of the Southwest. I had never tried to construct a headdress before, and I struggled with them quite a bit.  But they turned out pretty great after all, especially the one I wore.  I still have it, and look back on that show as a pivotal moment in my art career that I shared with great friends on stage.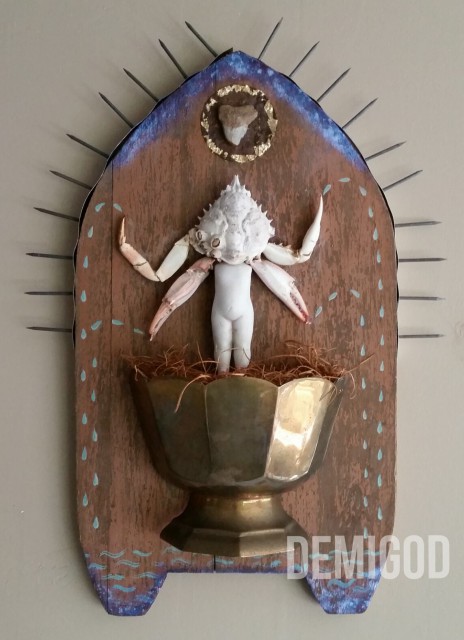 What projects are you working on currently?

There are always various projects in various states of completion in my home studio, ranging from paintings, to jewelry, to digital photography.  I had an outfit for Wearable Art XII, which I also modeled onstage with my Dunedin idols, the Garden Fairies.  It is amazing how many tips and tricks they have when creating art to wear.  I definitely had an easier time working on my head dress this year!
Why is the Dunedin Fine Art Center important to you as an artist?   
The quality and quantity of excellent exhibits and events they host each year is astounding.  They are always so welcoming with their many calls to artists, and their exhibits are very well attended, and filled with interesting people. DFAC wants the local artist to succeed. They support by providing stipends to guest speakers and Wearable Art artists, which I appreciate. A wide variety of classes and workshops led by working artists are offered to the art-loving community of kids and adults on a daily basis.