Elevating fashion and style into true works of art, Dunedin Fine Art Center's wearable ART event returns for a twelfth magical year on Saturday, August 27 from 7 p.m. to 11:30 p.m.
Dubbed the "gold standard" of art-fashion mashups by Creative Loafing Tampa, our annual extravaganza always delivers the most flamboyant fashions and festivities.
"It's inspiring, uplifting, and loads of visual and auditory fun!" said Nancy Niss, one of this year's confirmed designers.
The roster of talents taking the stage at wearable ART twelve also includes such notables as Mark Byrne, Stefania Costanzo, Melissa Dolce, Neva the Diva Durham, the Garden Fairies, Julian Hartzog, Johnny Hunt, Dacota Maphis with Sue Woodall-Metas, and Lina Teixeira. Their work promises to surprise and inspire, as they light up the runway with everything from classic couture fashions to upcycled styles crafted from alternative materials.
Nancy participated in wearable ART II, designing her own body paint and costuming as The Fairy Queen the same year Frank Strunk III debuted his fabulous metal clothing fantasies. Now she is returning with a fresh approach.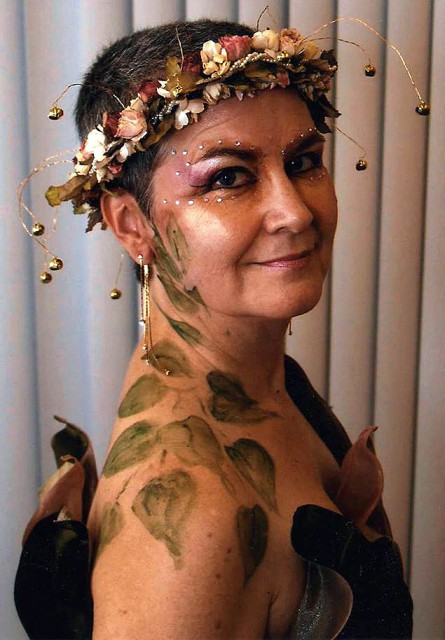 "Women are beautiful, within the constraints, of course, of what is 'acceptable' in fashion at any given time," Nancy said. So she makes a stylish commentary with The Cage of Fashion: a three-foot-square mesh and silk hat forming a multicolored cage … with bells on, naturally. Underneath, her black dress is embellished with metallic gold fabric flowers, and a wire neckpiece adorned with matching gold fabric.
A Master Tailor with 50 years of professional sewing and design experience, Nancy likes to get away from the often solitary nature of her work by participating in creative fashion shows like Wearable Art.
"I'm also an artist with an expansive, fanciful imagination and creativity that really loves a stage and an audience to play, have fun, and interact with," she said.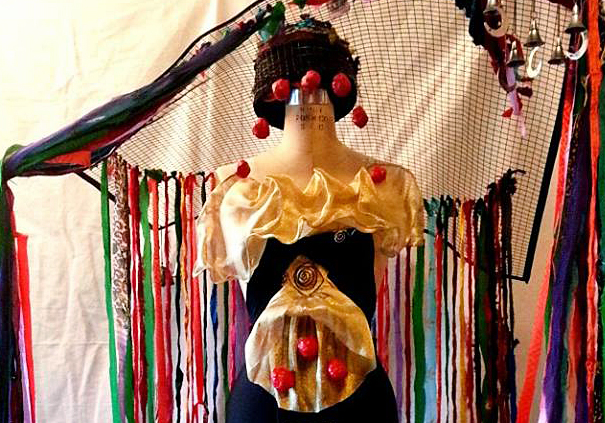 In this colorful setting, live music and celebration are mandatory. The Wearable Art Pre-Party kicks off at 7 p.m. at DFAC. Just steps away in the Dunedin Community Center, models take to the stage at 8:30 p.m. for the Runway Show. At 9:45 p.m., revelry continues into the night with music, cocktails, and dancing at our official After-Party.
Visit this page to secure your ticket, while they last. Entry to this year's fashion show costs $20 general admission (standing only), with seating available for $55, $75, or $95. A new budget-friendly $10 Party Ticket allows guests to enjoy the Pre-Party and Post-Party, while catching Runway Show action in between on live video monitors. Now there's no excuse for missing the most stylish art party of the year!