Friday, March 9th, the Dunedin Fine Art Center held opening ceremonies for #SMF, our 2018 student, member and faculty exhibition. We brought in Florida based artist, teacher, and curator Jon Seals, to judge the entries. Seals considered more than 250 entries spanning a wide range of media. He was kind enough to share some thoughts on the works he selected for awards.
#SMF Awards, Members Show
Best in Show – Jan Richardson  – "Ancient Vessel II" – Soda-fired stoneware
(Pictured Above) "This work strikes me at once as both contemporary and ancient." "It transcends space, evoking a celestial origin yet remaining grounded as a human cultural artifact, although one is hard-pressed to identify which culture that might be." "This duality is partly generated by the opposing left and right poles of binary symmetry as well as the horizontal mirroring of arches created with cutaways of negative space and bent wire." _Jon Seals.
First Place – Christina Bertsos – "Love" – Carved alabaster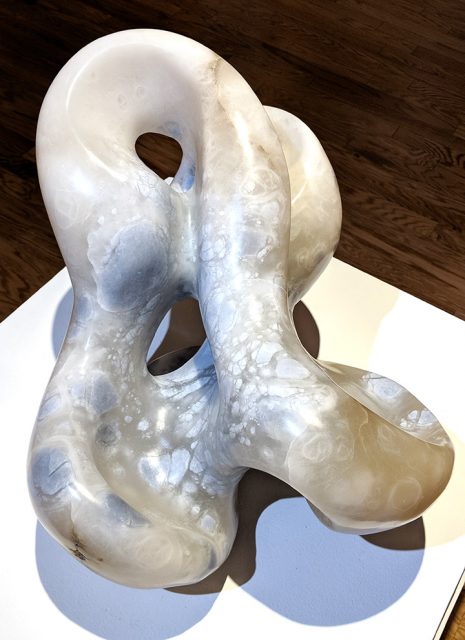 "The fluidity of form, balanced with the sensual play of positive and negative space, resist any tendency of mine to attempt an association with gender when working my way visually through this gorgeous sculpture. This piece somehow evokes both a liquid and a dried, cracked bone." _Jon Seals.
Second Place – Nathan Beard – "Exit Music #58″ – Acrylic on panel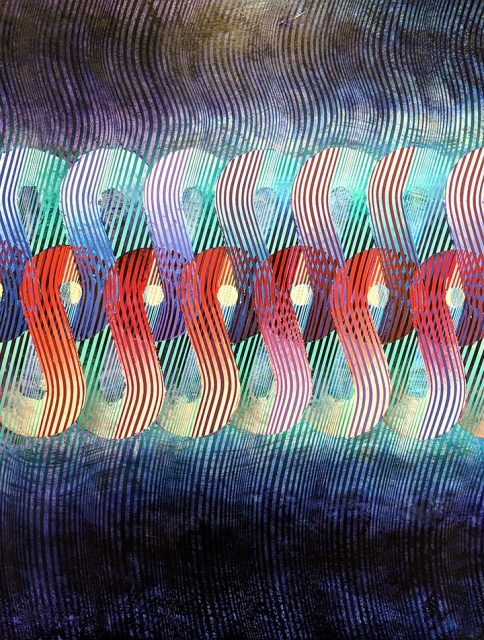 "This painting is incredibly visually exciting." "On the first pass, I was hypnotized by repetition of line and shape. Pulled in by its gravity of unification, I was held by the technical virtuosity as I puzzled at what this layered process of creating might look like logistically." "Where does one begin to create something like this?" _Jon Seals.
Third Place – Anne Emslie – "Hanging Out on the Serengeti" – wall quilt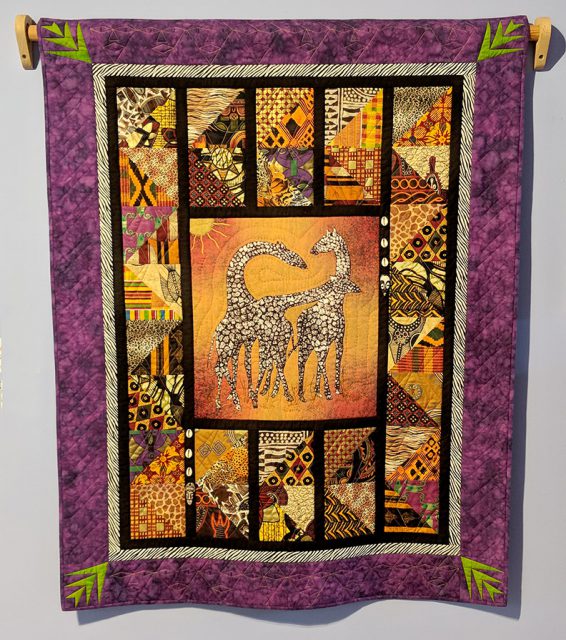 "Wildly unified through sophisticated choices in color and pattern, while remaining incredibly complex and diverse. Fantastic." C
Merit Awards:
Kristen Santucci, "Sheree", oil; Donna Linder, "Lygia", watercolor; Barbara Rivolta, "Raku Pouring Vessel", clay / fine silver/enamel; Joan Walker, "The Budding of a Life in the Skies", pastel;  Cathy Morgan, "Emerald Leaves", pastel; Owen McDowell, "The Last Sucker", etching; Salvatore James, "Life After 33″, mixed media; Cathy Simms, "Woman Bejeweled", mixed media." _Jon Seals.
#SMF Awards, Students Show
Best in Show – Marty Ferguson – "Cory's Circus" – Clay – Instructor: McCrory / McDonough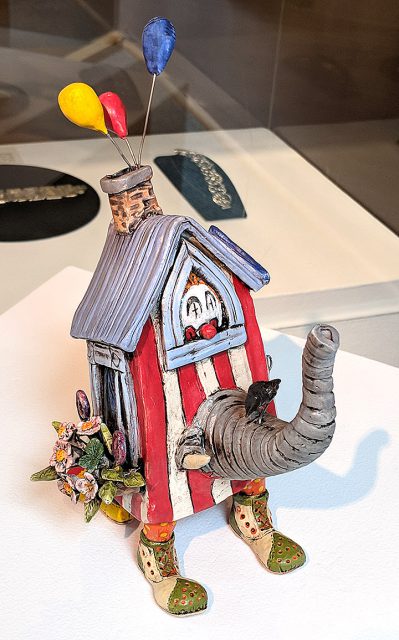 "Delightfully playful with just a touch of cynicism, this piece demonstrates a high level of craftsmanship and fine attention to detail that both delight the eye and provoke curiosity and wonder." _Jon Seals.
First Place – Jane Walker "Ebony and Ivory" – Watercolor – Instructor: Anita Wood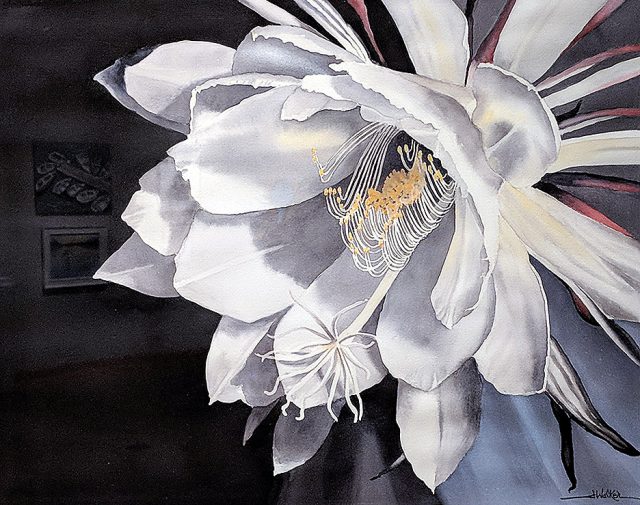 "Wonderful use of a medium." " This painting exhibits a distinguished discernment in matters of contrast." " The piece is high-drama where it needs to be and makes perfect use of subtle nuance and detail." _Jon Seals.
Second Place – Gail Gamble – "In the Gallery"  – etching/block printing – Instructor: Holly Bird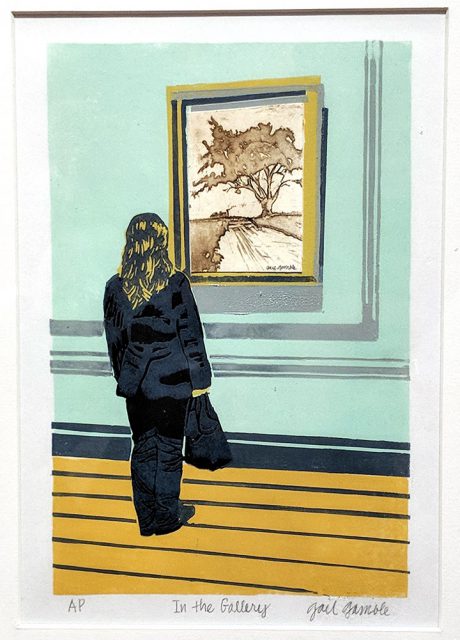 I was intrigued by the tension between the use of both flat and dimensional imagery in this work of art." " Wonderful use of line variations to set the stage for this encounter between disparate visual modes of expression." _Jon Seals.
Third Place – Cathleen Martinetto – "The Patriot" – oil on ivorine – Instructor: Markissia Touliatos
"This piece has been selected because it demonstrates an unexpected juxtaposition of materials and processes while at the same time invoking a high degree of intimacy without becoming overly sentimental." " Both the portrait at the center, and the care in which it is presented, are of high quality and craftsmanship." _Jon Seals.
Merit Awards
Cornelia Crane, "Early Spring", watercolor on terraskin, Instructor: Taylor Ikin; Rocio Hanson, "Delicioso", oil, Instructor: Markissia Touliatos; Carol Holley, "The Big Stretch", pastel, Instructor: Lorraine Potocki; Miriam Gusdal, "Lady with Shoes", acrylic, Instructor: Melissa Miller Nece; Ruth K. Smith, "Dockmaster", watercolor, Instructor: Anita Wood; Vana Meyers, "Portrait of Marielle", oil, Instructor: Markissia Touliatos; William Coleman, "Graceful Ruffles", watercolor, Instructor: Anita Wood; Polly Woodard, "If I can, You Toucan", watercolor, Instructor: Anita Wood.
More Artwork from DFAC #SMF Awards
The individual pages for the #SMF Exhibit show more incredible artwork from Students, Members, and Faculty. Please have a peek.  You can also take a few minute with the video below, to help relive the festivities of the #SMF Awards ceremonies.