Mural Madness for kids ages 8 to 11 and 12 to 16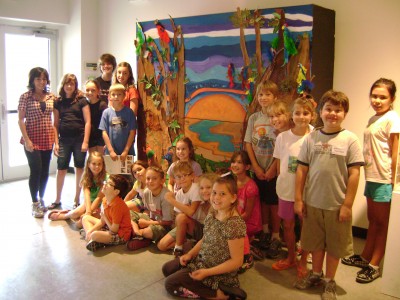 Program Description:
Under the direction of DFAC's wonderful faculty, young artists will learn the steps in creating magnificent, monumental sized drawings and paintings that will be on display at DFAC. Students will work as a team or in teams of smaller groups using the theme of the week, to work up sketches, then scaled drawings, then transferring/enlarging their artwork onto huge sections of paper.
With the Support of Creative Pinellas and the Pinellas County Board of County Commissioners.

Students bring lunch & snacks; soda & snacks can be purchased. Lunches are Available through the Palm Cafe at DFAC.
Lunch Menuquery="category=36″ format="1″]
Program hours and tuition for 1 week (Monday – Friday)
Member's Price
Non-member's Price
Mural Madness
9 a.m – 3 p.m.Sample schedule:
9:00 – 11:20 am Class time
(10:00 – 10:20 am Snack time)
11:20 am – 12:10 p.m. Lunch (not provided) in the Rotary Pavilion. Campers who have finished their lunch may participate in light outdoor sports
12:15 – 12:45 p.m. Cool Down Time indoors with a theme related video clip.
12:50 – 3:00 pm Class time
$170
$190
Extended Care is available 7:30 a.m. to 9 a.m. & 3 p.m. to 6:00 p.m. $45 a week per child.
 [downloads query="category=29″ format="4″]






Mural Madness Art Camp Scholarships!
The Dunedin Fine Art Center is proud to once again offer scholarships for the 2018 art enrichment summer camps(no matter where you live!). In the past, community partners such as The City of Dunedin, Dunedin Rotary, Dunedin Rotary North, the Employees of the Tampa Bay Times, Pinellas Cultural Foundation, Inc, the Pinellas Community Foundation, many individuals and organizations have granted funds to be used for this purpose. To apply for a scholarship, DFAC needs 4 or 5 items for documentation:
1. Letter from the parent as to why a scholarship is needed.
2. Drawing or letter from child as to
why they would like to come to art camp.
3. Copy of a report card showing satisfactory grades.
4. Letter of recommendation from art teacher.
5. Proof of Dunedin residency (City of Dunedin scholarship only).Please send the 4 or 5 items to the attention of Todd Still, Director of Youth Education, DFAC, 1143 Michigan Blvd., Dunedin, FL 34698.