After a TWO YEAR hiatus, Coffee & Conversation is back LIVE at DFAC!
Come early, grab a sandwich at the Palm Cafe and head to Studio B2 to enjoy our one-and-only LIVE Coffee & Conversation for this season.
PLEASE NOTE the EARLIER Start Time for this Presentation
Hanging out, drinking delicious coffee, talking about art… ahhhh, that's the life! Well, that IS the life at least for an hour or so each month at the Dunedin Fine Art Center's Coffee and Conversation series. Enjoy coffee (Presented by the Sterling Society of DFAC) and insights as each month's invited guest holds forth on their own area of expertise.
Tuesday, May 10th, 2022 at 11:30 am, the series welcomes the resident artists of Dunedin's newest gallery, ANN's Monroe St. Gallery.  Each of the 4 artists will present. The artists Ann Feldshue, Lorraine Potocki, Steven Spathelf, and Sherida Wysocki each bring a different perspective and style that is sure to inspire the audience.
Ann Byal Feldshue grew up in Toledo, OH and was drawing as soon as she could hold a crayon. She graduated with a BFA in drawing/painting from The Ohio State University. While in college Ann earned money and gained experience as a portrait artist. She then embarked on a 30-year career in retailing as a buyer and merchandiser (working for Macy's and Polo Ralph Lauren). Ann is inspired by perspective, chiaroscuro, and complimentary colors, and she continues to paint landscapes, still lifes, architecture, portraits, and abstracts. Now working primarily with acrylic, she has her own studio and gallery on the water in beautiful downtown Dunedin, Florida called Ann's Monroe Street Gallery.
Lorraine Potocki was born in Trenton, New Jersey where she received her BA in Fine Art and Education from the College of New Jersey. She works in pastel and acrylic in styles from realistic to impressionism and abstract expressionism. Potocki has exhibited throughout Florida including Solo shows in Tampa, Lakeland, and Seminole. Her work has been featured in Tampa Bay Magazine and is a past winner of the Clearwater Jazz Poster contest. Lorraine is on the faculty of the Dunedin Fine Art Center. She gladly welcomes commissions and visitors to her new studio.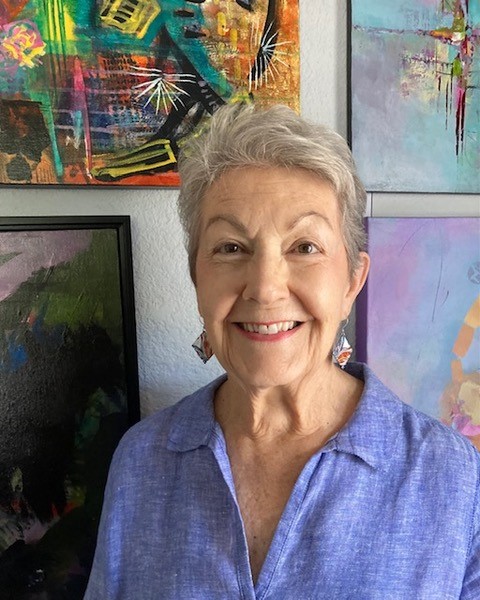 After 31 years in higher education, Sherida Wysocki relocated from Michigan to Tarpon Springs, Florida, pursuing her interest in art. Self-taught, Sherida has become more of a multi-faceted, experimental artist and has exhibited a wide variety of artwork but is currently focused on mixed media and collage. Her artwork has been juried in by the International Society of Experimental Artist for their annual show and digital online gallery and selected by the Tarpon Springs Art Council to be displayed in light boxes along the Sponge Docks in Tarpon Springs. Sherida is the President of Creative Artists Guild of Dunedin, and a member of Studio 1212 Art Gallery, Dunedin Fine Art Center, Stirling Society, Morean Arts Center, and Professional Association of Visual Artists. Her studio and gallery are located at Ann's Monroe Street Gallery, 234 Monroe St., Dunedin, Florida.
Raised in rural Ohio, Steven Spathelf started painting at the age of 8 under the direction of Ethel Berlin. He received additional formal training at Bowling Green State University in Ohio & Kendall College of Art & Design in Grand Rapids, Michigan. Soon after moving to the Tampa Bay area of Florida 30 years ago, Steve started to paint professionally. His first murals were on children's walls in the homes of friends, and he has been commissioned to paint hundreds of murals in the area's finest communities. Steve's work has been seen in local publications such as "St Petersburg Times", "Tampa Bay Magazine", "Imago", & "House Trends". He continues to attend painting classes from artist, Melissa Miller Nece at the Dunedin Fine Art Center. Over the years, he has received numerous awards. One of which was the City of Dunedin's Chamber of Commerce "Rookie-of-the-Year" for 2005, as a reward for artistic contributions.
This year's series is sponsored by:
Dianne Wheatley Giolotti.
Coffee and Conversation with Ann's Monroe St. Gallery Artists (LIVE!) – May 10th, 2022 at 11:30 am.