Hanging out, drinking delicious coffee, talking about art… ahhhh, that's the life! Well, that IS the life at least for an hour or so each month at the Dunedin Fine Art Center's Coffee and Conversation series. Enjoy coffee (Presented by the Sterling Society of DFAC) and insights as each month's invited guest holds forth on their own area of expertise. Admission to these relaxed talks is $5 and is FREE to current DFAC members.
Thursday, December 13th, 2018 at 12 noon, the series hosts artist Gainor Roberts. Gainor has titled her presentation "What Inspires Me."  Her presentation will select some of her paintings and show how her process works starting with the original inspiration; a thought, dream, idea, or image in front of her. Then working through the imagination phase of how to manipulate the original thing that caught her in a moment of Inspiration. And then the creative stage; translating this mental image to paint and canvas.
Art has been a passion with Gainor for most of her life, and she can remember drawing pictures as a toddler and sometimes she would feign illness to stay home from school and draw pictures all day. Despite her academic nonchalance she managed to complete college with a BA degree in English. But painting continues to be a passion and has been her main occupation even though she has had many jobs allied with the graphic arts and printing industries.
She considers herself a realist painter and has been greatly influenced by the Impressionists. She studied painting at the Art Students' League, in New York, with Robert Brackman and later at the National Academy of Design and Lyme Academy of Fine arts, studying painting, drawing and sculpture.
Her mediums are oil, watercolor, pastel, egg tempera, a variety of drawing media and monotype printmaking. Her love of art is reflected by a love of traditional artist materials and techniques. Her subjects are still life, landscape, symbolic still life paintings, and portraits.
She has exhibited her work widely in New England the Tampa Bay area. Her work may be seen on her website and blog, and in many shows around the Tampa Bay area, most notably at Carrollwood Cultural Center, where she is on the faculty.
She is a member of several art organizations both local and national. Her paintings and portraits are in many private collections, and her bio may be found in the pages of Wikipedia.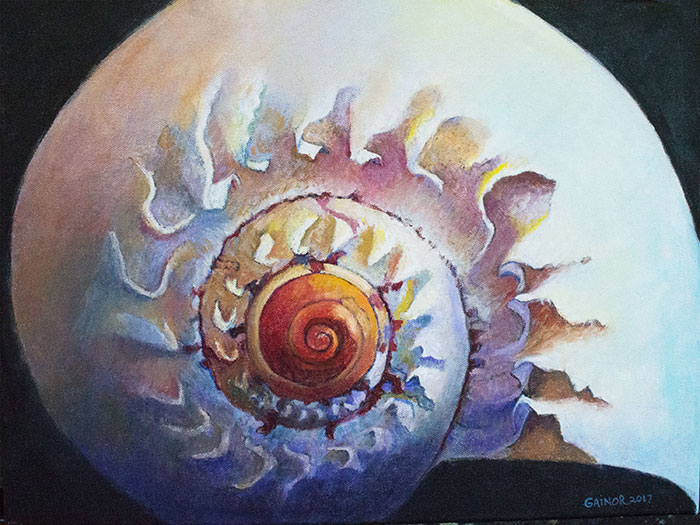 So stop by for some Coffee & Conversation. Or call ahead to the Palm Cafe' (298.DFAC ext 237) and have lunch waiting for you!
Coffee and Conversation with Gainor Roberts – Thursday, December 13th, 2018 at 12 Noon.