Hanging out, drinking delicious coffee, talking about art… ahhhh, that's the life! Well, that IS the life at least for an hour or so each month at the Dunedin Fine Art Center's Coffee and Conversation series. Enjoy coffee (Presented by the Sterling Society of DFAC) and insights as each month's invited guest holds forth on their own area of expertise. Admission to these relaxed talks is $5 and is FREE to current DFAC members.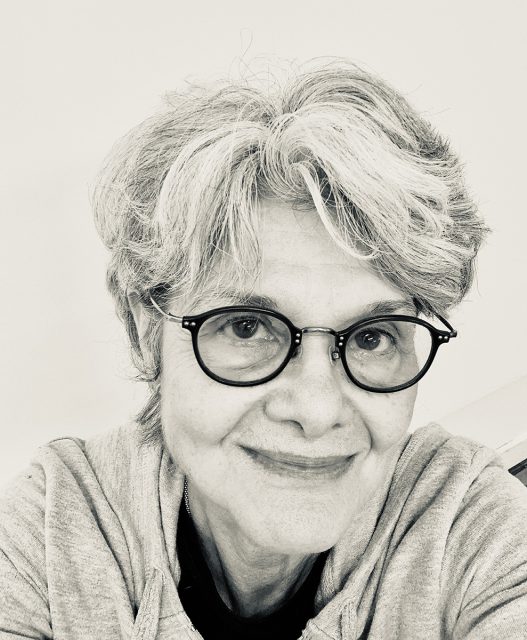 Thursday, April 20, 2023 at 12 noon
The series welcomes artist Dolores Coe.
Title of the presentation: Field Notes & Tracks – In & Out of the Studio.
"I live and work on a riverbank, on a fragile coastline of powerful forces: blazing sun and saturated color, deterioration and generation, the randomly abandoned, roots that don't grow deep but spread and intertwine, the flatness, space, and always a horizon line—and endlessly fascinating humans. I work with visual parallels in creating paintings." – DC
In this conversation Florida-based artist Dolores Coe will discuss a selection from her painting series and projects, tracing inspiration and ideas over time and highlighting the processes and explorations that have evolved. Included will be works from her new series of  "child/hood/scapes", a pandemic fueled and inspired change.  Woven into the mix will be the notion of the pivotal role of that "other thing", familiar to most artists, that is crucial in both informing works in the studio–and extends outward as a reciprocal, creative force.
For Coe, those "other things" include working along the banks of the Little Manatee River, building by hand a mountain cabin/studio, photo documenting "Funky Florida", poetry, and travel… and balancing her solitary practice in the studio with the privilege of engaging with others extensively in teaching, counseling, and collaborative roles over time, developing arts- based programs in art and non-art endeavors.
Bio

Dolores Coe is a visual artist whose recent paintings of invented spaces and narratives fuse fragments of environment, observation, musings and improvisation.
Coe earned her MFA in Painting and an MA in Counseling from the University of South Florida.  Her work has been exhibited regionally and nationally in museums and galleries such as Tampa Museum of Art, USF Contemporary Art Museum, and North Miami Museum.  She was awarded a resident exchange fellowship at the Riksacadame in Amsterdam, and grants received include the Florida Individual Artist Fellowship in Painting and the Arts Council of Hillsborough County, Individual Artist award.  Coe's paintings are included in a number of public, private and corporate collections throughout the region, among them IBM, General Telephone, Tampa General Hospital, State of Florida and the University of South Florida.
She was Faculty and Program Director at Ringling College of Art & Design from 1991 until 2005 and Curator of Art in Health, USF Contemporary Museum  20016-19.  She lives and maintains her studio on the Little Manatee River in Ruskin, Florida.
So stop by for some Coffee & Conversation.
Or call ahead to the Palm Cafe' (727-298-DFAC ext: 237) and have lunch waiting for you!
Coffee and Conversation with Dolores Coe – Thursday, April 20, 2023 at 12 Noon.
Dunedin Fine Art Center
1143 Michigan Blvd.
Dunedin, FL 34698
727-298-DFAC
www.dfac.org