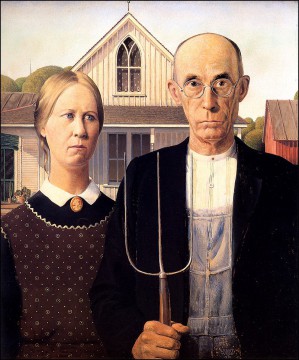 Presented by Dr. Dee Kilgo.
Grant Wood's American Gothic painting is one of the world's most famous and most parodied artworks. Despite its iconic status in popular culture, few people know the unusual story behind the creation and politics of this work and its meteoric rise to fame in 1930. Dee Kilgo's lecture tells this fascinating story and how Wood's painting came to play a unique role in the development of 20th century American art.
When: Sunday, April 2, 2017     2:30-3:30pm
Where: Dunedin Fine Art Center, Studio B2
Tickets: DFAC Members     $10
Non-members        $14
To purchase tickets, click here or call 727-298-3322 to make a reservation.
Speaker Dee Kilgo, Ph. D, is Professor Emeritus of Art History, Illinois State University. Author of two books and many articles on 19th century art and photography, Dee has lectured widely on art in popular culture. She currently resides in Dunedin, FL and Godfrey, IL.