Day of Week: Sat 10:00 am - 1:00 pm
Levels: Intermediate,Advanced,Professional
Location: Dunedin Fine Art Center
Figure drawing is timeless and important because it seeks to portray the complex beauty of the human person. In this course, students will be taught how to draw the nude human figure from a live model using charcoal and chalk on paper. Prior drawing experience and some knowledge of basic drawing concepts, such as perspective, is recommended. Lessons will use a structural approach geared towards helping students draw what they see. Primarily, the class will consist of demonstrations, gesture drawings, various quick exercises, and long pose drawings. There will also be individualized help when necessary.
Students must register 2 weeks in advance of the start date.
Portrait Drawing Workshop
W-DR107
Day of Week: Sat 10:00 am - 2:30 pm
Levels: Intermediate,Advanced,Professional
Location: Dunedin Fine Art Center
Non-Member: $85.00
Mat'l/Lab Fee: $20.00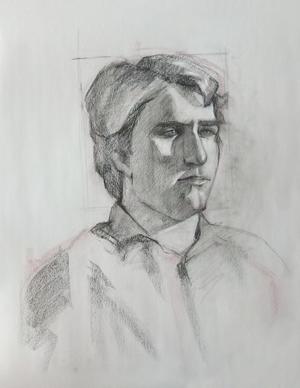 Capturing the likeness of a person in a portrait is a challenging yet important part of learning to draw people. In this workshop, students will learn drawing techniques through demonstrations by the instructor and then apply what they've learned by drawing real-life models. There will be a strong focus on proportion, structure, and value (lights and darks). A grasp of foundational drawing is highly recommended. All necessary materials for this workshop will be provided by the instructor.