Day of Week: Sat 10:00 am - 1:00 pm
Levels: Beginner,Intermediate
Location: Dunedin Fine Art Center
Non-Member: $197.00
Mat'l Fee: $30.00
An atelier is an art school focused on teaching classical drawing techniques. Atelier training has been highly sought after by prospective art students in recent years because it provides students with the skills they need to create realistic artworks. In this class, students will learn foundational drawing techniques that are commonly taught in ateliers. These techniques will help students to establish accurate proportions, simplify a subject, and understand value relationships. The instructor will provide personalized feedback to help each student grow. In class, students will draw still lifes as well as copies of master artworks in pencil. The instructor will also provide students with resources to help them continue to learn outside of class. All materials will be provided by the instructor.
Portrait Drawing Workshop
W-DR107
Day of Week: Sat 10:00 am - 2:30 pm
Levels: Intermediate,Advanced,Professional
Location: Dunedin Fine Art Center
Non-Member: $85.00
Mat'l/Lab Fee: $20.00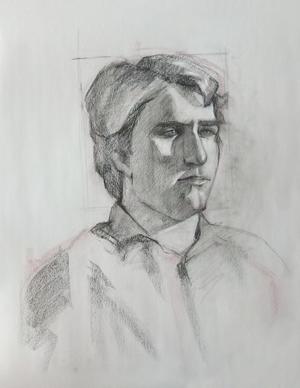 Capturing the likeness of a person in a portrait is a challenging yet important part of learning to draw people. In this workshop, students will learn drawing techniques through demonstrations by the instructor and then apply what they've learned by drawing real-life models. There will be a strong focus on proportion, structure, and value (lights and darks). A grasp of foundational drawing is highly recommended. All necessary materials for this workshop will be provided by the instructor.
Ages 17 and up.