Day of Week: Tues 9:00 am - 12:00 pm
Levels: Intermediate,Advanced
Location: Dunedin Fine Art Center
Introduction to block relief printing in linocut techniques. No printmaking experience is necessary, but some art class experience is. Working in oil-based inks, we will explore one-color and more advanced reduction and multiple block prints for those who want to go further in their relief printing experience. In-depth instruction in registration techniques, methods and materials with an emphasis on solid design and pre-planning will be offered in this class.
Day of Week: Fri 9:00 am - 12:00 pm
Levels: Intermediate,Advanced
Location: Dunedin Fine Art Center
Introduction to basic and safe methods of etching with a non-acid solution (ferric chloride) using copper plates. While drawing ability would be helpful for artists completely new to etching, printmaking experience is not necessary to take this class. Those with etching experience can expand on more advanced techniques or try mezzotints. The use of a large and small etching press, aquatint box and other equipment will be covered.
The Multiple Color Linoleum Print
W-PR516
Day of Week: Sat & Sun 10:00 am - 4:00 pm
Location: Dunedin Fine Art Center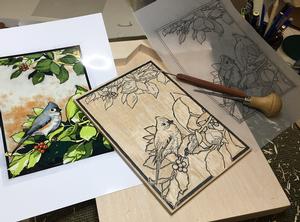 An introduction to multiple color linoleum block printmaking for all levels. By the end of this 2-day workshop, a student will have made a simple, hardboard registration "jig" to keep and will complete a 4"x6" print in 2 to 3 colors. They will be able to pursue multiple color relief printing in their home studio without needing a press. Professional-level toolkits will be lent out to all students and the hardboard jig, unmounted linoleum, paper and ink will all be provided with their material fee.