Art Squad for Teens ages 11 to 14
Program Description:
Classes are divided by age(not skill level) into 4 groups (10 max in a group). The groups then rotate through four 1 hour and 20 minute classes in photography/black & white darkroom, computers (will be sharing), throwing on the wheel and drawing/painting. Each week students will work with the theme of the week as the departure point for their creative art experience.
Students bring lunch & snacks – soda & snacks can be purchased. Lunches are Available through the Palm Cafe at DFAC.
Lunch Menudownloads query="category=36″ format="1″]
Program hours and tuition for 1 week (Monday – Friday)
Member's Price
Non-member's Price
Art Squad
9 a.m – 3 p.m.Sample schedule:
9:00 – 10:20 am 1st Class
Drawing, painting & mixed media10:20 – 11:40 am 2nd Class
Clay, throwing pottery on the wheel11:40 am – 12:20 p.m.
Lunch (not provided) in Highlander Park12:20 – 1:40 pm 3rd Class
Digital imaging in Photoshop1:40 – 3:00 pm 4th Class
Darkroom, 35 mm photography and developing black & white film
$180
$200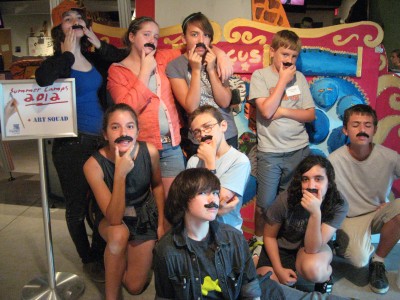 NOTE: Grouping with friends is available by advance written request if age group and art skills are appropriate.
Changes cannot be made after program has started.
Extended Care is available 7:30 a.m. to 9 a.m. & 3 p.m. to 6:00 p.m. $40 a week per child.
[downloads query="category=29″ format="4″]
Art Squad Art Camp Scholarships!
The Dunedin Fine Art Center is proud to once again offer scholarships for the 2018 art enrichment summer camps(no matter where you live!). In the past, community partners such as The City of Dunedin, Dunedin Rotary, Dunedin Rotary North, the Employees of the Tampa Bay Times, Pinellas Cultural Foundation, Inc, the Pinellas Community Foundation, many individuals and organizations have granted funds to be used for this purpose.To apply for a scholarship, DFAC needs 4 or 5 items for documentation:
1. Letter from the parent as to why a scholarship is needed.
2. Drawing or letter from child as to
why they would like to come to art camp.
3. Copy of a report card showing satisfactory grades.
4. Letter of recommendation from art teacher.
5. Proof of Dunedin residency (City of Dunedin scholarship only).Please send the 4 or 5 items to the attention of Todd Still, Director of Youth Education, DFAC, 1143 Michigan Blvd., Dunedin, FL 34698.