2016 Summer Camps' Info hot off the press!
Get your hands on some art!
Up to 9 weeks, DFAC's Summer Art Academy offers fun, creative, cognitive experiences for kids and teens from 4½ to 16 years old. Scroll down for weekly themes…then Camp Brochure and lastly a registration form at bottom of page.


Check out our offerings and enroll early, as space IS limited!  
Got QUESTIONS? Our OPEN HOUSE is Friday, April 22nd from 6-8pm.  It's ALSO the LAST chance for early registration discounts!
Choose from one of the following award-winning programs based on your child's age:
Good Day Tampa Bay and the Charley's World team chose 5 CAMPS in all of TampaBay to feature in their COOL CAMPS series… We're SO honored to be one of them! They were here visiting June 25, 2015 Here's a segment from that morning below!
Charley's World COOL Camps 6.25.15 – 8:25am
FOX 13 News           They were also here visiting summer, 2014. The segments from that morning are below!   Charley's World COOL Camps 6.11.14 – 7:50amFOX 13 News
Charley's World COOL Camps 6.11.14 – 8:20am    FOX 13 News   Charley's World COOL Camps 6.11.14 – 8:50amFOX 13 News
2016 Themes & Dates Below:  
| | | |
| --- | --- | --- |
| Week 1 | 6/8 – 10 | Swamp Things: Florida's favorite critters including alligators of course.  ** note** 3 day camp |
| Week 2 | 6/13 – 17 | Shark Week: All your favorite sharks plus their fishy friends. |
| Week 3 | 6/20 – 24 | Artful Olympics: Exercise your favorite Olympic sports with paint brushes and clay. |
| Week 4 | 6/27 – 7/1 | Winter Wonderland: Feeling warm? Celebrate the Winter Holidays making  snowmen, candy canes and other holiday favorites. |
| Week 5 | 7/5 – 8(4 day week) | Cinco de July-o: Celebrate the 4th Fiesta Style |
| Week 6 | 7/11 – 15 | Candyland: Create your own colorful candy world(artwork collected for exhibit) |
| Week 7 | 7/18 – 22 | Intergalactic Railway: Travel through the cosmos in style |
| Week 8 | 7/25 – 29 | Togas, Tridents and Tales: Greek Mythology comes alive in your artwork |
| Week 9 | 8/1 – 5 | Lights, Camera, Action: Explore the world of movies |
| | | |
Turn Back Time to 2003
March Madness Limited Time Offer
DFAC is turning back the hands of time! For the month of March, camp tuition for full day camps time warps back 13 years to summer 2003. Sizzlin Summer Visual Arts Camp, Mural Madness, I Pad Explorations and Arts In Motion Camps falls back to $130 member/ $150 non – members. Art Squad $140 for members and $160 for non – members. Mini-Masters $130 member/ $150 non – member. After March , tuition returns to 2016(which is still really good). Time for the small print: The first week registered needs to be paid in full while additional weeks can be reserved at $50 each(nothing new) but, due to the "special-ness" of this limited time offer…weeks cannot be changed once reserved(new) and tuition is non- refundable(not new). If weeks need to be changed…then the price will default back to 2016. Additional weeks may be added…but after March …pricing will be back to the present…2016. Discounts(excluding Family Memberships) are good for Full weeks only.
 Summer Camp Volunteer opportunities for High School Students 15 yr olds and  older for summer 2016.
Click here for Lunch Menu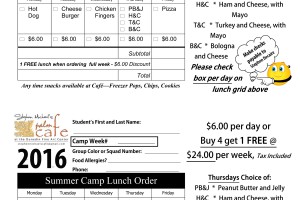 Summer Camp Scholarships!
The Dunedin Fine Art Center is proud to once again offer scholarships for the 2016 art enrichment summer camps(no matter where you live!). In the past, community partners such as The City of Dunedin, Dunedin Rotary, Dunedin Rotary North, the Employees of the Tampa Bay Times, Pinellas Cultural Foundation, Inc, the Pinellas Community Foundation, many individuals and organizations have granted funds to be used for this purpose.To apply for a scholarship, DFAC needs 4 or 5 items for documentation:
1. Letter from the parent as to why a scholarship is needed.
2. Drawing or letter from child as to
why they would like to come to art camp.
3. Copy of a report card showing satisfactory grades.
4. Letter of recommendation from art teacher.
5. Proof of Dunedin residency (City of Dunedin scholarship only).Please send the 4 or 5 items to the attention of Todd Still, Director of Youth Education, DFAC, 1143 Michigan Blvd., Dunedin, FL 34698.