MM374 - Sea Shell Art
Member Tuition: $149.00
Non-Member: $179.00
This class is an introduction to the favorite pastime of shell collecting & crafting during the Victorian period, which produced the beautiful octagonal shadowboxes filled with shell mosaics known as 'Sailors Valentines'. Students will learn how to creatively incorporate shells into personal art projects, such as jewelry, paperweights, pocketwatch treasures or shadow box mosaics in hopes of inspiring a contemporary revival in this art form. If one loves detailed, focused work that requires patience—they will find this media truly relaxing and gratifying. A $25 materials fee paid directly to the instructor includes a starter kit with tools, shells, glue, etc.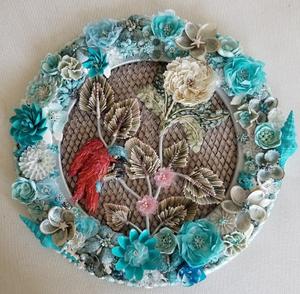 ---
Available Schedules:
To register online, choose a scheduled class
04/10/18 - 05/15/18
Spring
Call DFAC Office for Late Enrollment
Dunedin Fine Art Center
1143 Michigan Blvd., Dunedin, FL
Tues [1:00 pm - 4:00 pm]
Instructor: Renz, Caryl
Note: There is a $25.00 Materials Fee Paid to Instructor.