W-JW103 - Bangles! Bangles! Bangles!
Member Tuition: $45.00
Non-Member: $55.00
Skill Levels: Beginner,Intermediate
First time in the jewelry studio? No problem. Learn to solder sterling silver wire, form it into a circle and shape it using a steel bangle die and the hydraulic press. Beginners can expect to complete 3 bangles during this workshop. Instructor will have a variety of sterling silver wire for sale ranging from $5 to $15 per bangle.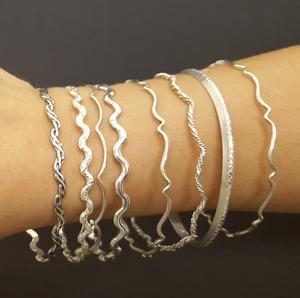 ---
Available Schedules:
To register online, choose a scheduled class
Dunedin Fine Art Center
1143 Michigan Blvd., Dunedin, FL
Sat [10:00 am - 1:00 pm]
Instructor: Thayer, Gail


Dunedin Fine Art Center
1143 Michigan Blvd., Dunedin, FL
Wed [9:00 am - 12:00 pm]
Instructor: Thayer, Gail


Dunedin Fine Art Center
1143 Michigan Blvd., Dunedin, FL
Sat [10:00 am - 1:00 pm]
Instructor: Thayer, Gail


Dunedin Fine Art Center
1143 Michigan Blvd., Dunedin, FL
Wed [10:00 am - 1:00 pm]
Instructor: Thayer, Gail


Dunedin Fine Art Center
1143 Michigan Blvd., Dunedin, FL
Sat [10:00 am - 1:00 pm]
Instructor: Thayer, Gail